When your window treatments could use some sprucing up, take a look at switching to custom-made window shades from Sunburst Shutters & Window Fashions. We have beautiful styles of window shades in Denver, including Cellular, Roller, Roman, Sheer, Transitional, and Woven shades. All our shades are available in a variety of colors, hues, materials, and textures that will accentuate your home's unique style.
And unlike window shades from big-box stores, we custom measure our shades to fit any window shape or size. Whether you're going for a relaxing, beach house motif with a reed woven shade, or want to add color with a traditional roller shade, Sunburst Shutters & Window Fashions has them all. We offer a variety of features to fit your style, including motorized shades, top-down/bottom-up, cordless, and more.
Sunburst Shade Opacities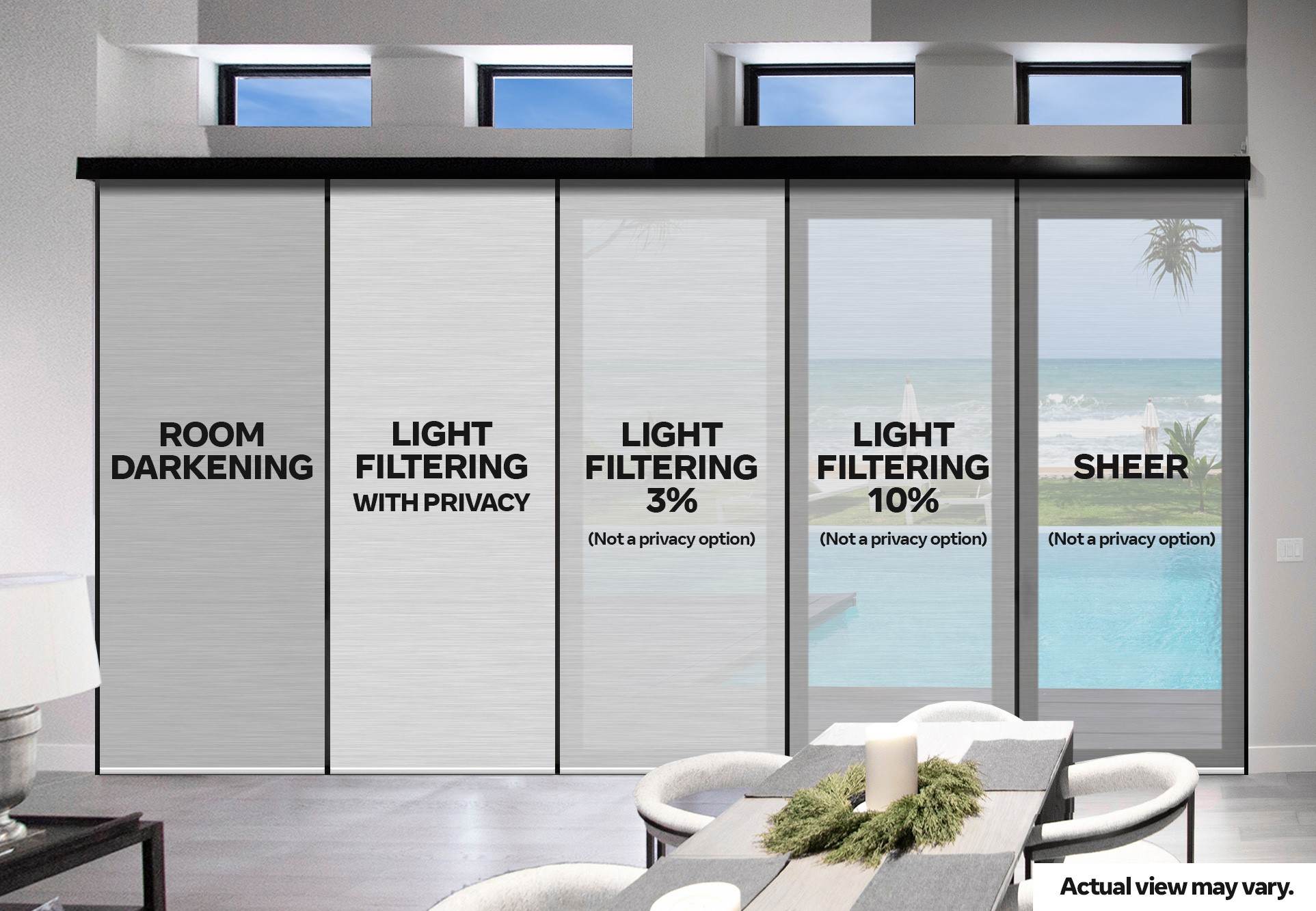 Looking For Motorized Shades In Denver? Look No Further!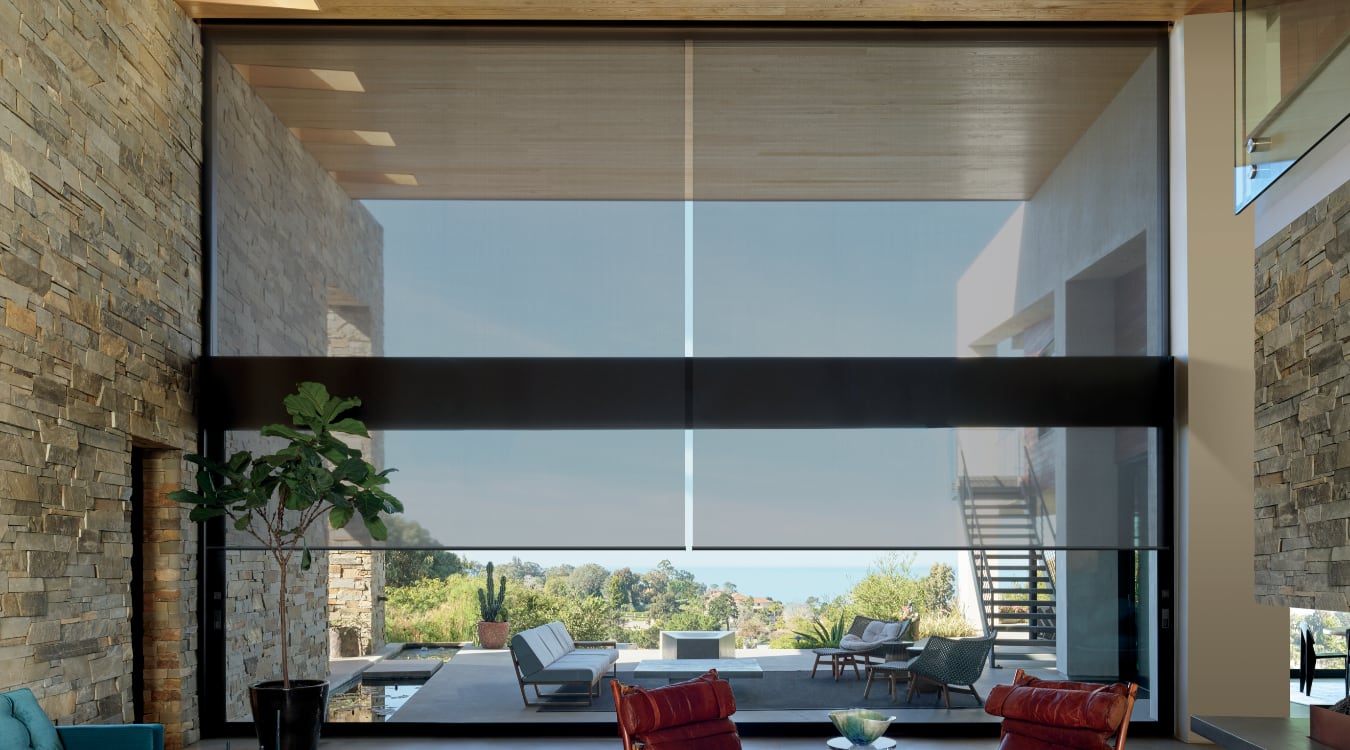 There are many reasons why you're interested in custom-made motorized shades in Denver, especially if you have oversized windows, tall windows, or windows that are out of reach. Perhaps your windows are too high or too awkwardly placed to raise your shades up without needing a stool. Or you want to sync your shades to your home automation system. Or maybe you want to avoid dangerous cords dangling down. No matter the reason, a variety of Sunburst Shutters & Window Fashions window shades have home automation options.
During your in-home design consultation, we'll discuss which shades can be ordered with a motorization option. We'll demonstrate how to control them using your remote control. Once they're in your home, you can connect your shades with Google Home or Amazon Alexa for extra control. Using a home automation feature, you can schedule when your shades open and close or pair them with your other smart lights when you want a darker room. You can even control them from your Alexa or Google Home app when you're away from home.
Traditional Roller Shades: The Sleek And Contemporary Window Shade For Denver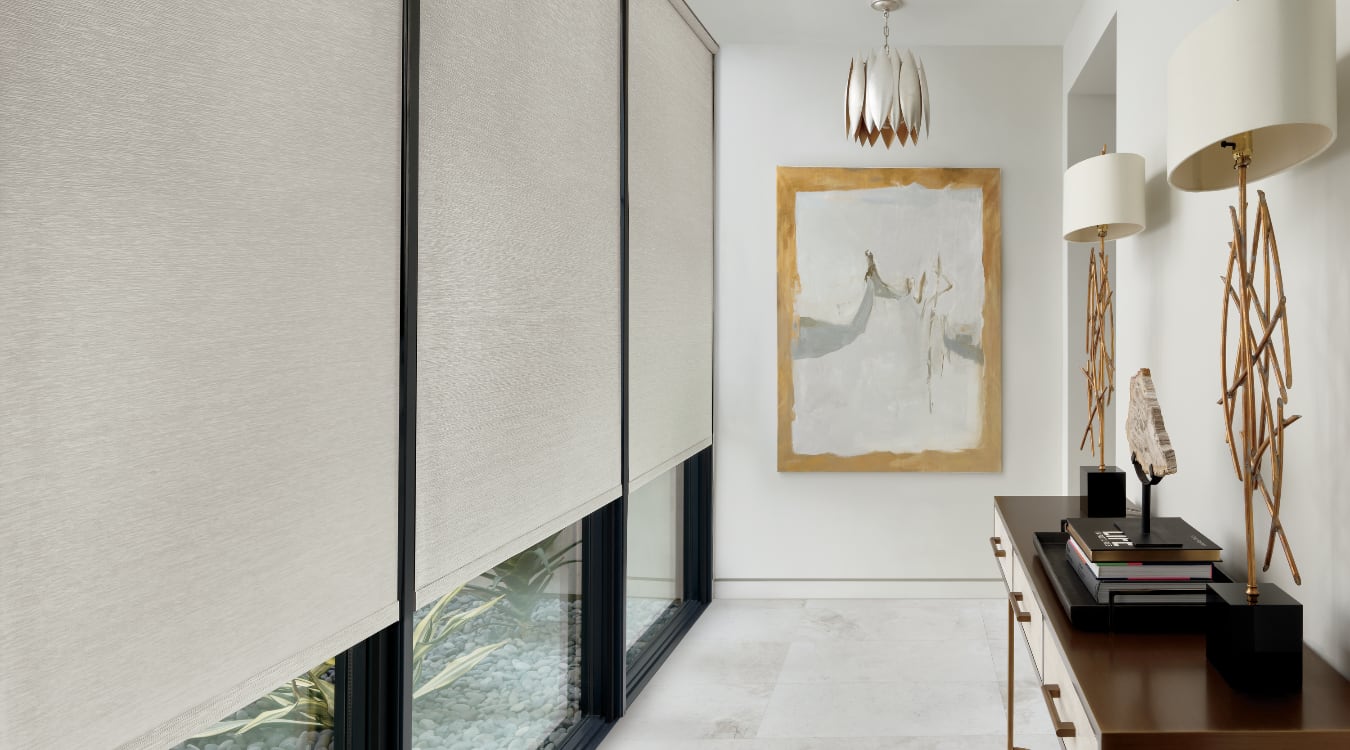 Our beautiful line of roller shades will reshape the way you feel about window shades. With Sunburst Shutters Denver you can choose from many options for privacy and light control, from breezy linings to thick black-out shades. Our custom-made roller shades come in an assortment of colors and material, fringe and trim options, and numerous hem choices. With their sleek, modern style, our roller shades can beautify every room in the house, regardless of your current style.
Cellular Window Shades: Contemporary Style And Energy Efficiency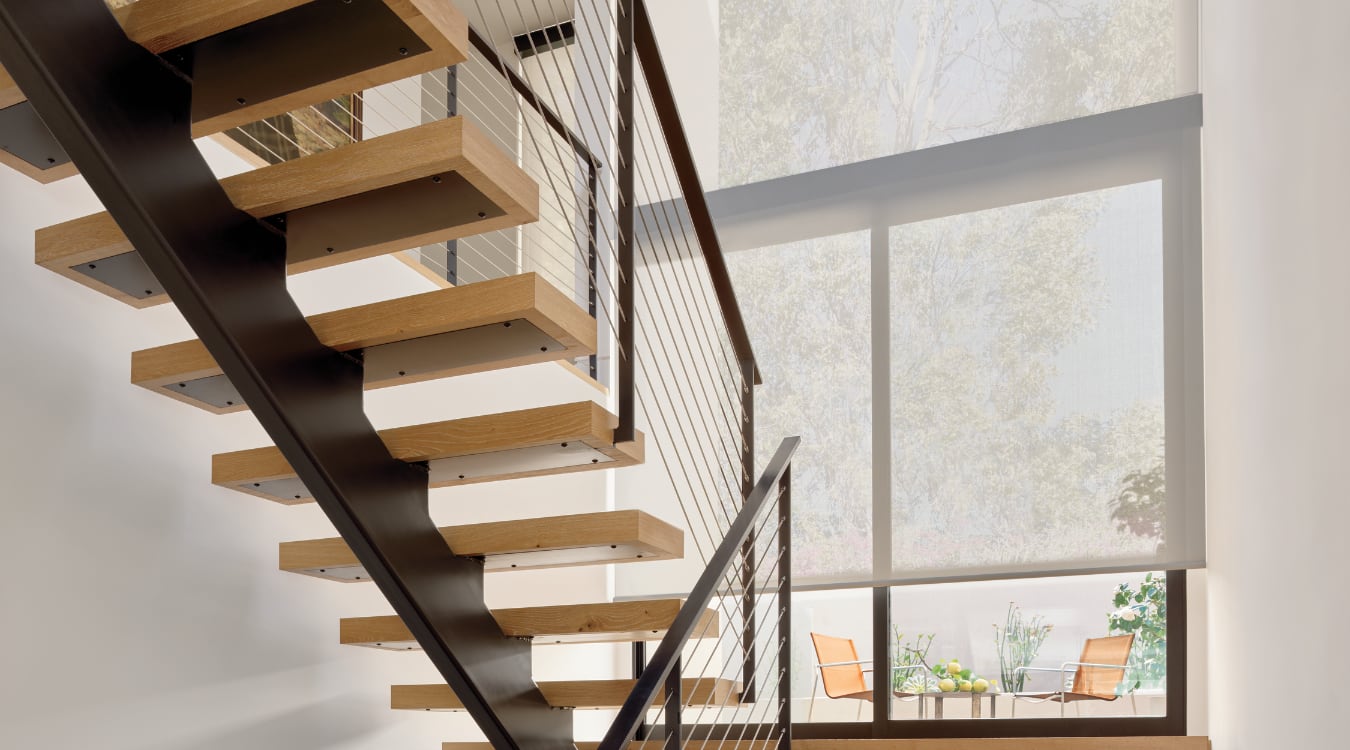 When you buy a cellular window shade for your Denver home, you get a custom-made unique window treatment that has both a sleek profile and energy efficiency. Also known as honeycomb shades, these shades are created using sturdy fabric cells that collapse and expand like an accordion. Unlike some other shades and blinds, Sunburst Shutters & Window Fashions cellular shades are typically cord-free and are offered in a wide variety of colors, hues, and pleat sizes. Since they're custom-built, they'll fit your window perfectly.
Roman Shades: Custom-Made Refinement For Your Denver Windows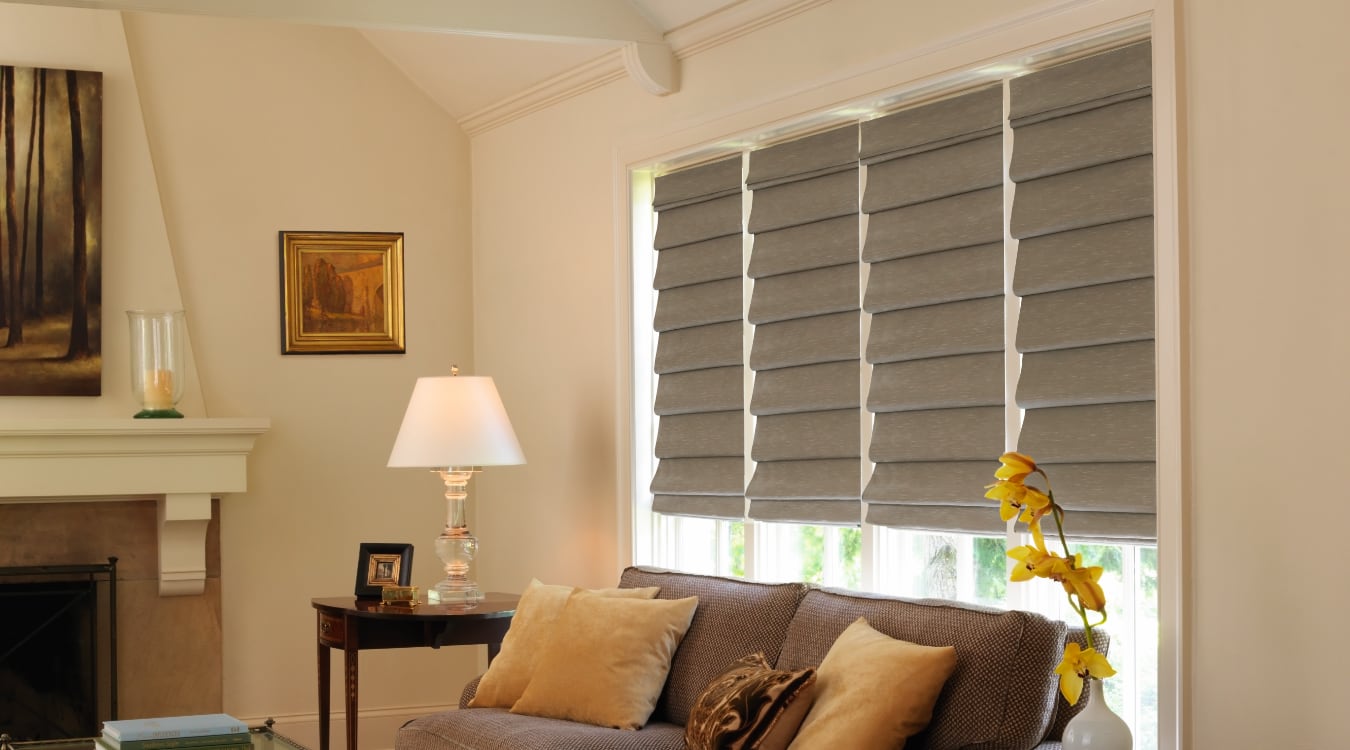 Roman shades combine the glamour and style of fabric drapes with the smooth handling of typical roller shades. Created from fabric that folds upon itself, Sunburst Shutters & Window Fashions Roman shades offer that refined look that works in both time-tested and contemporary decors. Whether you opt for the standard pleated style or decide on a flat profile, our custom-made Roman shades will always add elegance to any room. You can even add cord-free or motorized options for your Roman shade.
Sheer Shades: The Cross Between Fabric Shades And Interior Shutters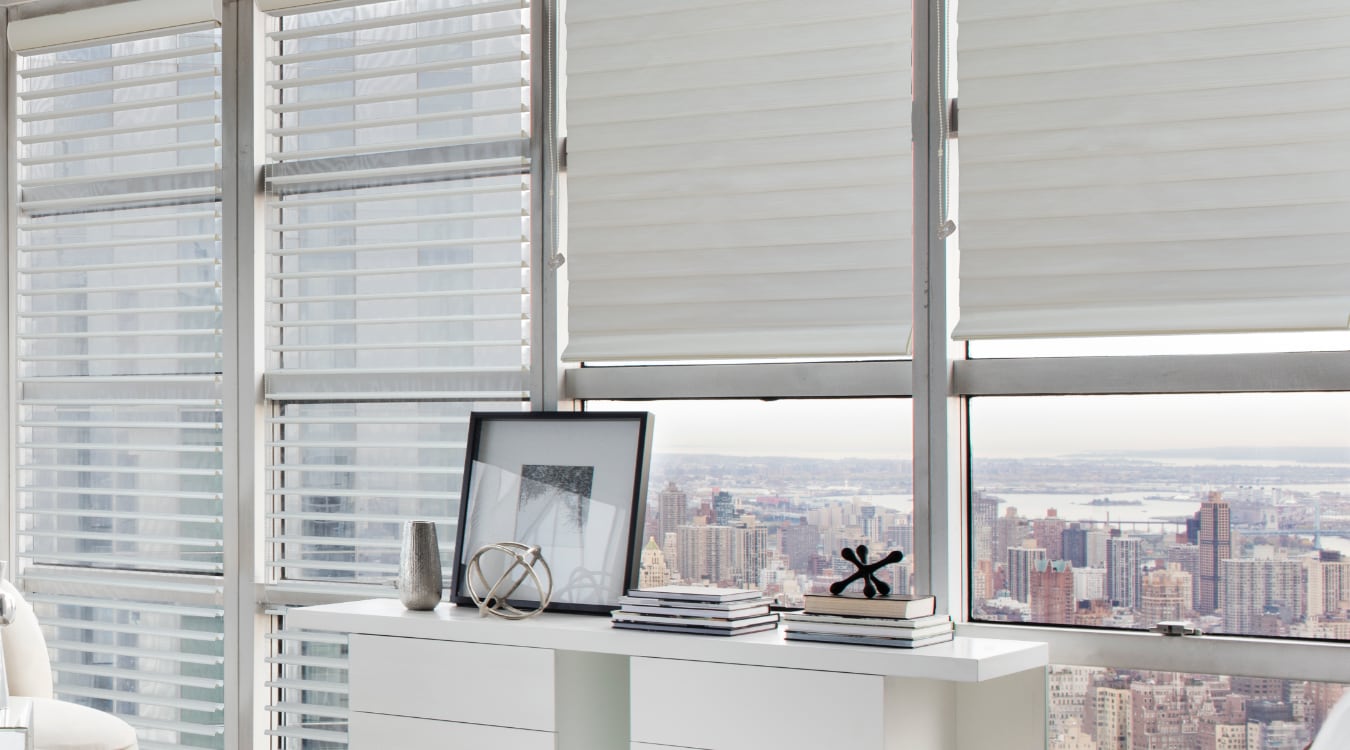 When you want the best of both custom-made fabric shades and interior shutters, look to sheer shades from Sunburst Shutters & Window Fashions. Sheer shades feature two fabric panels and slats. These window treatments offer full control of directing the sunlight while giving the soft, minimal look of window shades. And since they're custom-crafted, they provide better light control and fit than out-of-the-box shades.
Transitional Shades: The Unique Sheer Twist On A Traditional Roller Shade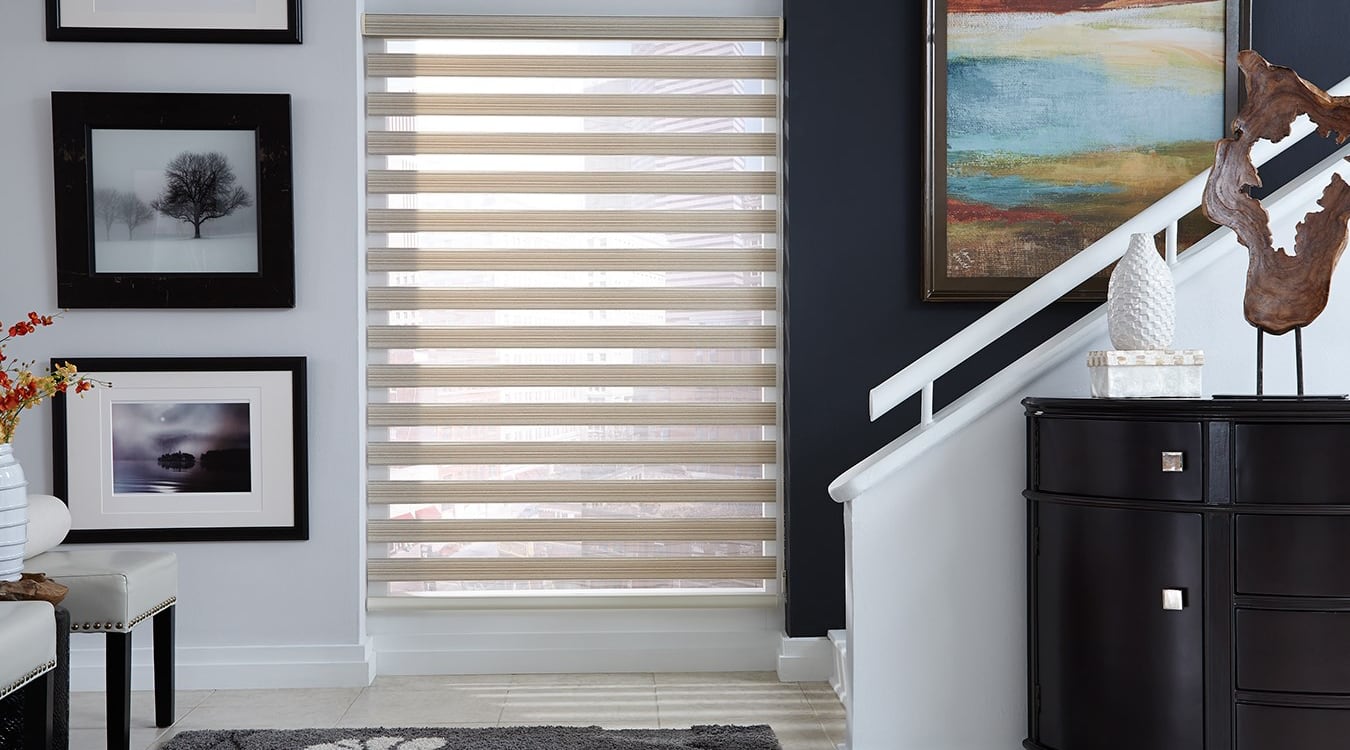 For a unique custom-made window shade in Denver, try an eye-catching traditional shade. Built from two continuous loops of fabric, you can quickly switch between a translucent sheer shade and a solid privacy shade with a simple tug. Set the shade to look like zebra stripes when you'd like some light. Or gain privacy by sliding up the dark panels. Open or closed, your transitional shades from Sunburst Shutters & Window Fashions will bring a sense of style to your space and fit your windows perfectly.
Woven Wood Shades: Give An Organic Touch To Your Windows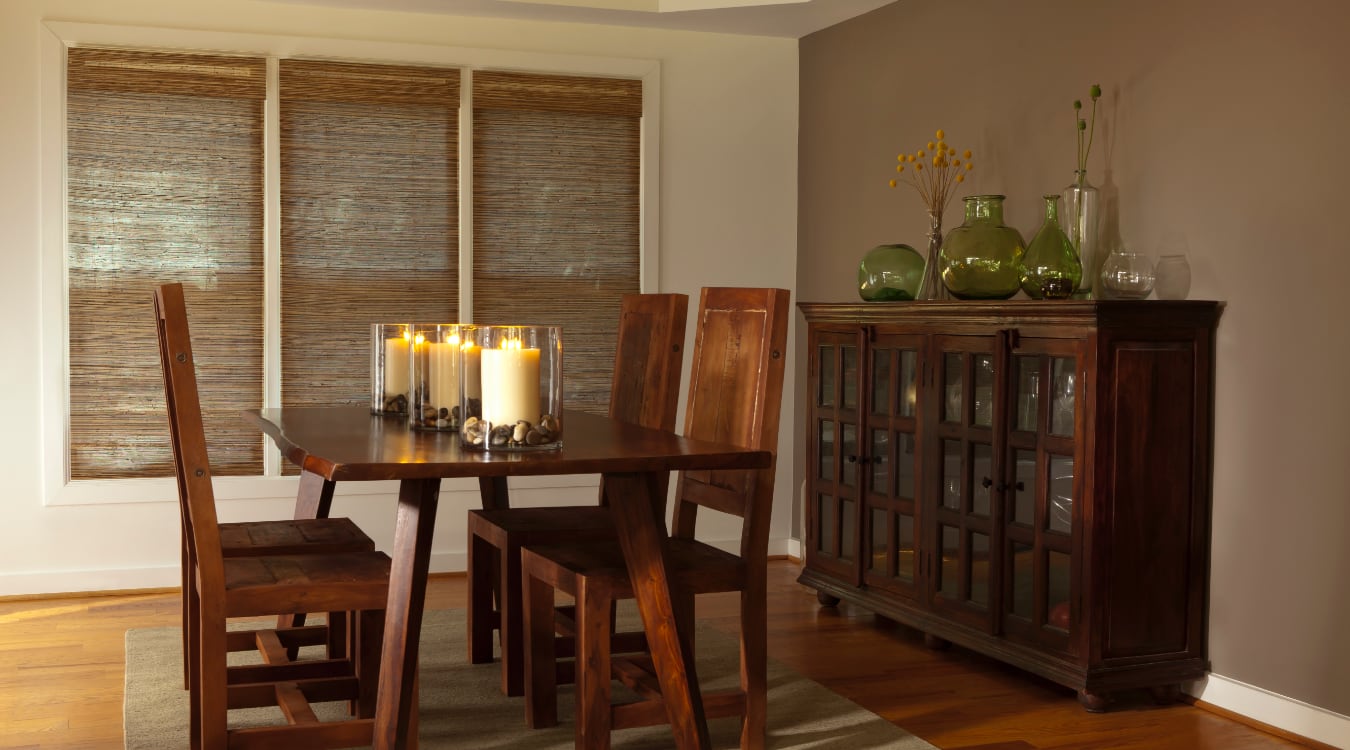 Woven shades in Denver offer the intrinsic organic beauty of a custom-made wooden window treatment without being too much for a room. The natural weaves are available in a variety of materials, like reeds, bamboo,grasses, and other natural fibers, each with their own texture and look. Woven shades are a perfect shade for the bedroom, dining room, or home office, but they can easily go into any room where you'd want to have an organic feel.
Panel Tracks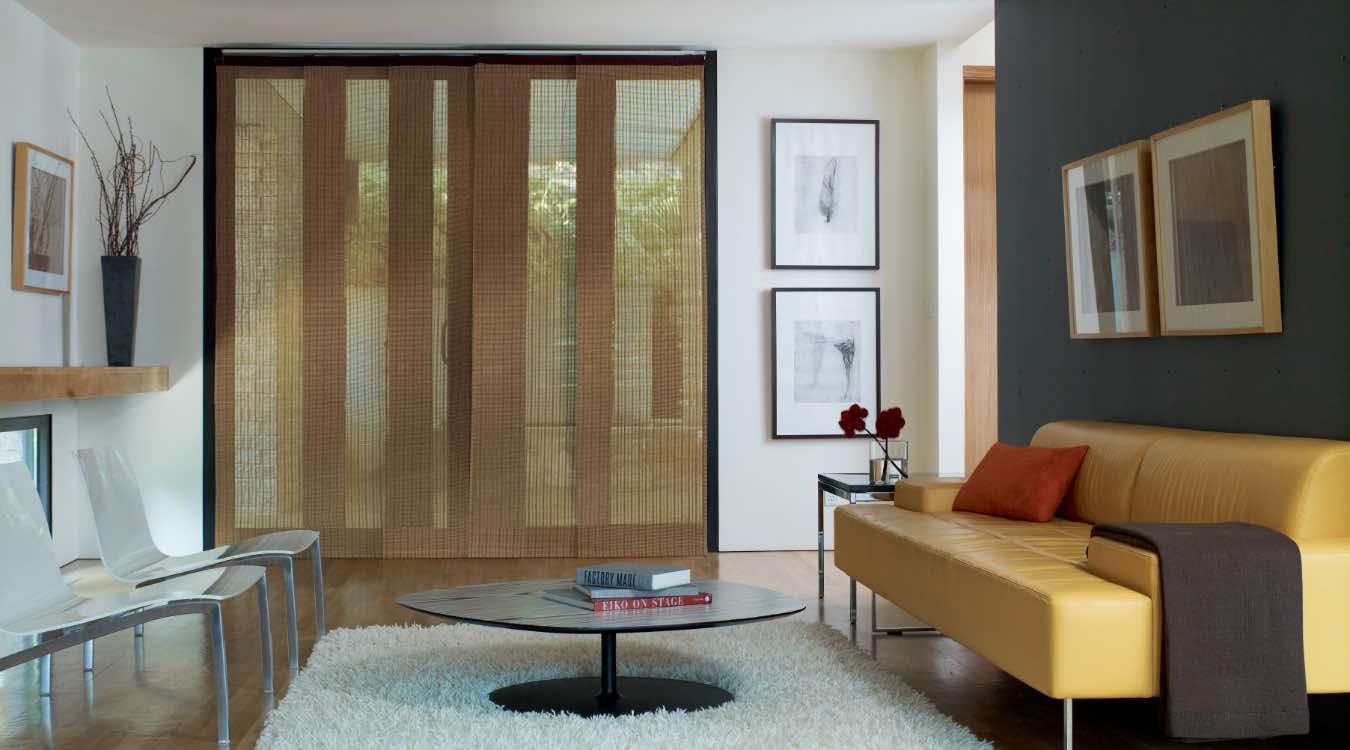 Bring to your home style and simplicity to your space with Denver panel tracks. A stylish alternative to standard vertical blinds, panel tracks easily slide along a rail and stack to the side of your sliding door or windows.
Sunburst Shutters & Window Fashions Is The Expert For Custom-Built Window Shades In Denver
The first step in having custom-made window shades for your Denver home is to contact Sunburst Shutters & Window Fashions Denver. We'll display samples of various window shades and interior shutters, so you can see up close which window treatment is perfect for your home. Just call 720-538-0182 or fill out the form below for your complimentary in-home consultation.