Custom Window Blinds Denver
Sunburst's blinds for Denver are top quality in both manufacturing and materials. They go above and beyond common blinds when looking at design and functionality. Pick from real wood blinds or faux wood blinds for window treatments that blend with your home and decor.
Made-to-order Window Blinds For Your Interior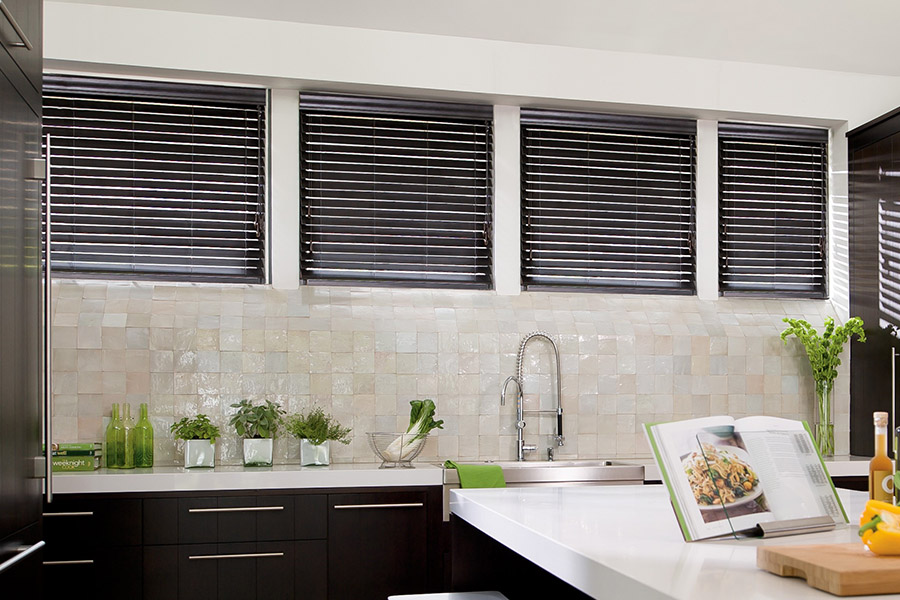 While everyone has come across traditional aluminum or vinyl blinds, these are no comparison to the exceptional faux wood and hardwood blinds Sunburst presents to you. Their well-built slats and reliable cords function smoothly and last longer than other blinds. We also provide many appealing colors and other customizations to make certain your blinds look and work the way you need.
Our blinds in Denver supply unsurpassed adaptability in taking control of exterior light and privacy within your interior. Their robust slats stops sunglare and the sightline into your home when shut. You can then rotate the slats for a bit of light or raise them up for a flood of sunshine. No matter what style of blind you select, the window covering experts at Sunburst will make certain your product fulfills your specific needs and expectations.
Benefits Of Blinds in Denver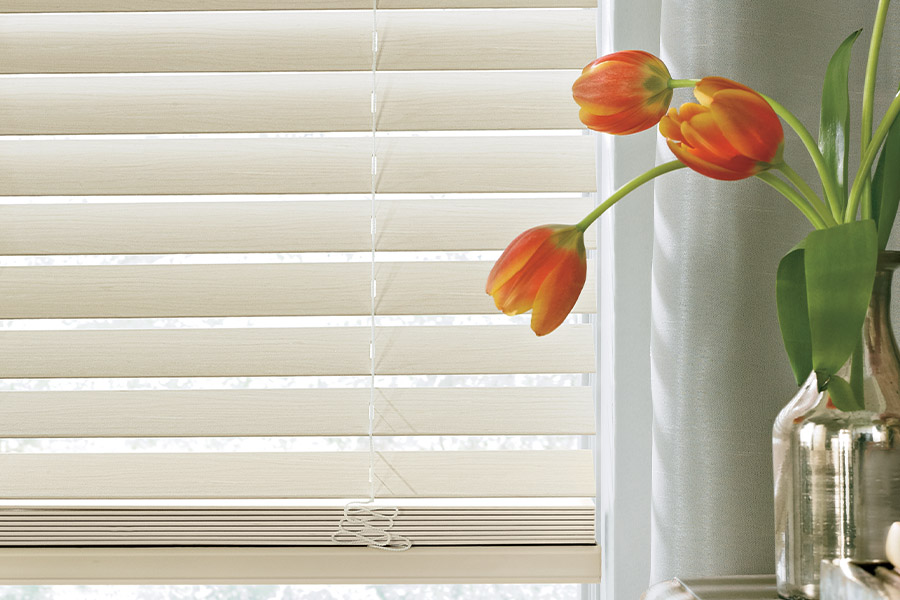 The primary concern with the majority of window blinds is the speed in which they fall apart, get twisted up, or begin to stick during normal operation. Sunburst's wood and faux wood blinds live years longer than weaker products. Their tough slats will not curve or crack and moving elements don't fray or get worn out rapidly to offer years of effortless operation. Sunburst's faux wood blinds will even hold up for years to come in humid areas due to their water-resistant synthetic wood slats.
Sunburst's blinds work more reliably than inferior blinds too. Our exclusive headrail system is expertly engineered for smooth functionality, and the substantial slats of real wood or faux wood give you outstanding privacy and inhibit most outside light. Select between a few easy-to-use choices of operation for when you want to shift between differing levels of sunlight. We also can incorporate specialized edge routing that eschews the ladder openings you find on many blinds that allow people to peek into your rooms.
One of the most appreciated virtues of blinds for Denver residents is their allure. They mix the well-known look of blinds with the refinement of quality wood or synthetic wood for a look of sophistication. Select from dozens of colors to complement your unique interior and even select a valance for a special embellishment. Or use them as fashionable short-term substitutes until you have custom louvered shutters. Good luck trying to find other options that give your windows smooth function and breathtaking appeal to the same degree that the wood and faux wood blinds from Sunburst Shutters do!
Faux Wood Blinds For Unrivaled Style and Longevity In A Window Blind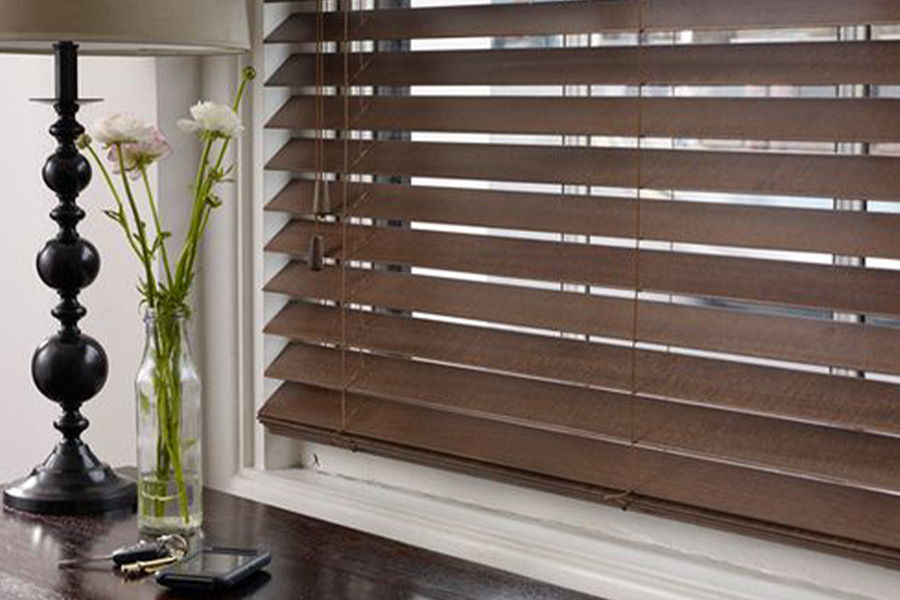 Built for the longevity and elegance you've grown accustomed to with Sunburst.
Our faux wood blinds
last longer and look better than other alternatives. Paired with a premium headrail system, their solid extruded slats rise and drop effortlessly as you open them for sunlight or secure them for privacy. The slats are also resistant to water, which makes our faux wood blinds perfect for high-moisture environments that destroy other products.
Sunburst's faux wood blinds also bring dazzling grace and added value to your home's windows. Opposed to inferior blinds, they have opulent look due to their quality elements and craftsmanship. They look sophisticated like louvered shutters while eschewing the higher cost. Select from over a dozen preferred tones and a even or wood grain finish to match your interior. Then consult with Sunburst Shutters Denver about more custom options to complete the precise feel you desire for your faux wood blinds.
Wood Blinds Give You Light Management, Privacy, And Appeal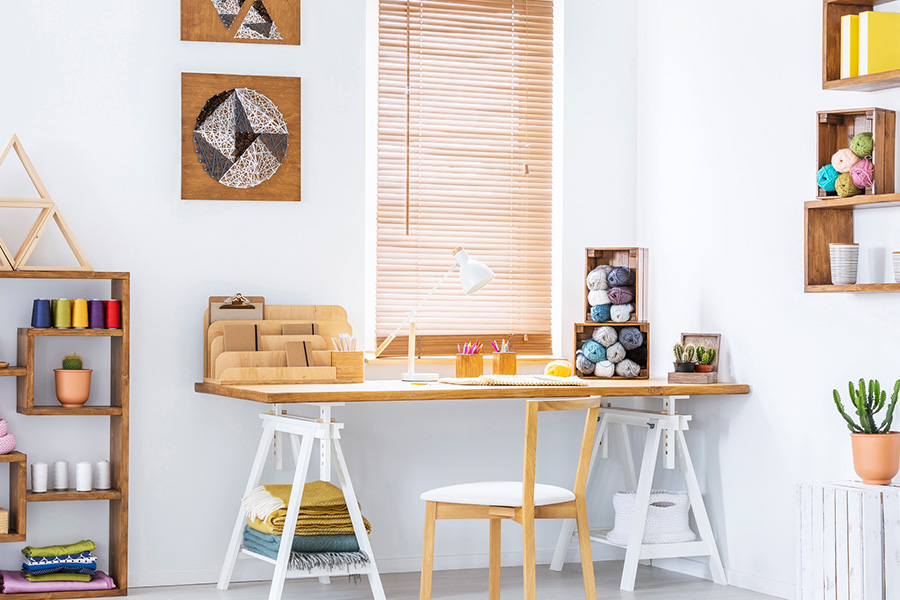 With the classic allure of real wood coupled with exquisite workmanship, it's no wonder
our wood blinds
are preferred by Denver families who wish to have beautiful, durable window treatments. Built from furniture-grade wood, they look stylish on all windows and combat typical wear from regular use significantly better than common aluminum blinds.
Our wood blinds are available in 24 dazzling finishes, all with built-in UV resistance to safeguard their alluring color long-term. Use them in most rooms where you would like a distinctive window product that allows you to simply switch between differing degrees of sunlight and privacy.
Vertical Blinds: Improved Traditional Blinds For Tall Windows And Sliding Doors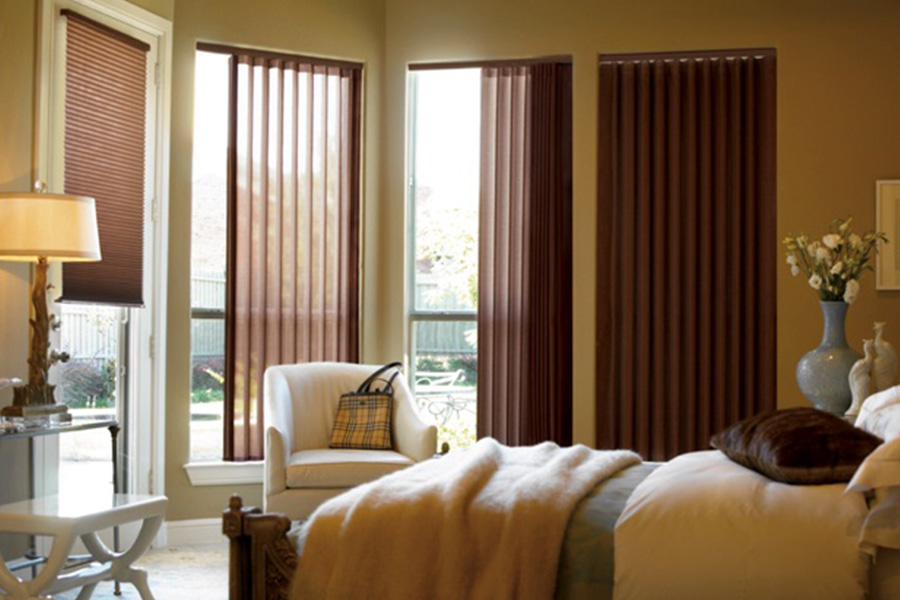 Vertical blinds have for a long time been a go-to choice for sliding glass doors or comparatively sizeable windows. Although vertical blinds are typically considered to be inferior, quality vertical blinds from Sunburst provide a nicer option than your common vertical blinds. Select from vinyl or fabric vertical blinds in your favorite of the various available colors to add something special to your door or tall window.
Common Questions About Blinds In Denver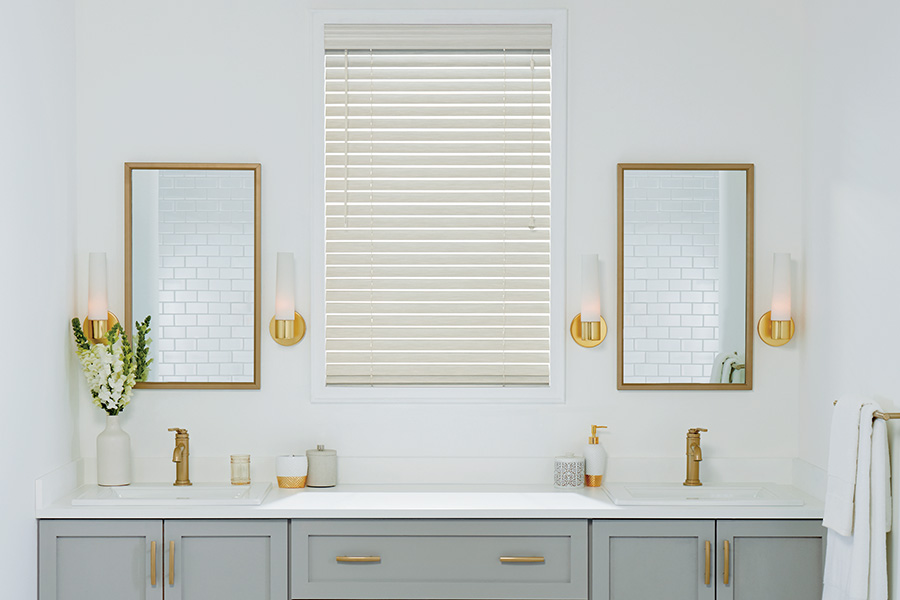 How Do Sunburst's Blinds Stack Up Against Other Alternatives?
Aluminum and vinyl blinds have ingrained flaws that lead them to bend or break easily. These same blinds usually have second-rate mechanical elements that also break down and act up over the course of their brief lifespan. On the other hand, blinds from Sunburst Shutters & Window Fashions have naturally heavy-duty materials like hardwood and a faux wood that outlasts other alternatives. They won't deform or fracture when your dog slams into them, or when a little one grasps them. They also work as intended over the course of their service life, so you never have the frustration of your blinds locking up when you make an effort to adjust them.
Our blinds are more appealing as well. Robust hardwood and faux wood blinds have the appearance of luxury products because of their precision engineering and inspired colors. Then we go above and beyond by allowing you to customize with beautifying twill tapes, rounded corners, valances per your request. At a time when you find second-rate blinds in every store, Sunburst's blinds rise above the pack for their craftsmanship and unsurpassed appeal.
How Do Blinds Operate?
Our blinds function much like other options. If you shut your blinds, a an assemblage of slats releases down over your window to cover it. You may move the slats to turn toward you if you would like to bring in outside light or angle them closed to obstruct views and exterior light. As you decide to open your blinds, the slats rise up and gather nicely against the headrail which is found over your window or at the top of your window opening.
Sunburst has different lift systems for your blinds in Denver. Common cord-attached blinds consist of cords you pull to manipulate the blind slats, while wand tilt blinds are managed with the twist of a bar. We even provide the option of lift blinds that you raise or lower with a bottom rail.
Can I Hang Blinds In Bathrooms?
Not every window treatment will hold up to humid baths and kitchens. The warmth and dampness will make materials contract and expand, leading to warping and breaking. Moist environments might also cause mold to grow on more absorbent window products.
If you would like window blinds in these types of places, your most sensible solution is our faux wood blinds. Constructed from a solid extruded material, the slats are impervious water and the destruction it brings. You are able to admire their charm in a bathroom or kitchen for many years.
Are Blinds Similar To Interior Shutters?
Simply: No. Despite the fact that numerous residents tend to reference any window covering as a "blind", interior shutters (also known as plantation shutters) are a noteable improvement over blinds. Shutters are longer lasting, better manage natural light and temperature, come with a frame around the window to make them more of a permanent addition, and have better warranties.
Whenever you're trying to decide between blinds and shutters in Denver, Sunburst Shutters Denver can help you assess your specific goals and find the ideal covering for your windows. Keep in mind that Sunburst's faux-wood blinds are a smart and budget-friendly choice if you want a finely crafted treatment to shield your windows and add flair to your interior.
Your Denver Blinds Shopper's Guide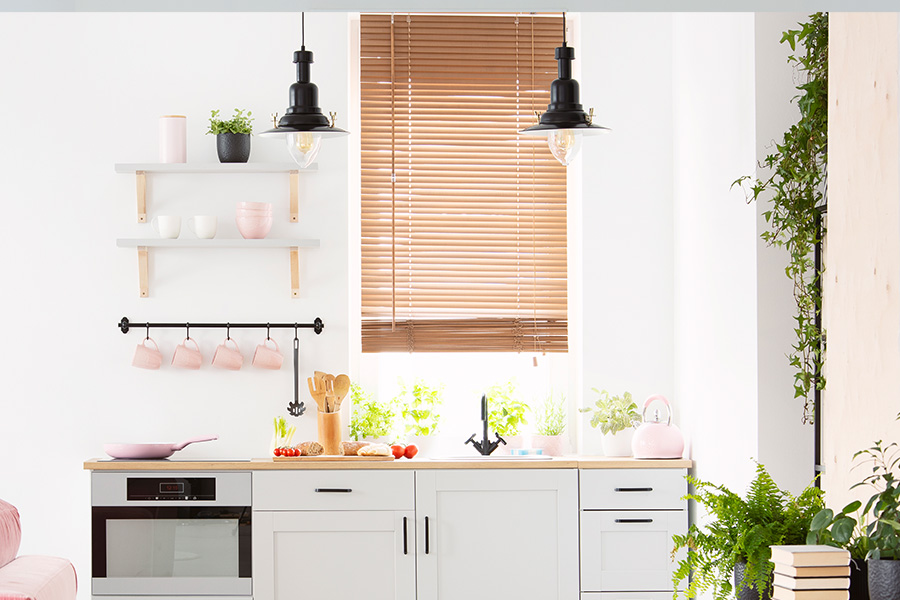 The Process For Purchasing Our Window Blinds
You can commence the procedure for buying blinds with a helpful, complimentary in-home consultation. You'll converse with one of our window treatment specialists on how you would like your blinds to operate and look. Then our expert will display some samples of our blind offerings and additional window treatments such as our plantation shutters, directly on the windows you wish to do so you are able to see a real demonstration of the final result. They'll also discuss possible additions and take note of your order.
Next, we take precise measurements of all of your windows. Even if you don't purchase blinds for each window now, we'll hold on to our records to use on future orders. With your window's measurements and state-of-the-art computer software, we get a blueprint for your custom-tailored blinds.
As soon as proficient technician build your new blinds, a crew is sent to install the window coverings with precision and attention to detail. Prior to leaving, they use your blinds to make sure everything works properly and looks how you want. All that's left for you to do is enjoy your new blinds for years on end!
Personalize Your Blinds Specially For Your Property
We wouldn't proclaim are blinds as your leading option if we didn't supply multiple ways to customize that result in truly unique blinds suited specifically for your windows and home. Our objective at Sunburst is to always supply you with blinds and other products that you appreciate using and looking at. Whatever your preferences or desires, we will craft the perfect custom blinds for your interior.
Colors And Finishes
Our faux wood blinds can be found in five stylish white or near-white colors and a range of wood color stains.
You'll find our wood blinds in 24 lovely finishes to either harmonize with or create an appealing complement with existing wood elements in your residence. Be sure to inquire about color choices for tassels, ladders, and pull cords to finish your blind's appearance.
Are you wondering about vertical blinds? Sunburst supplies vertical blinds in different materials with a number of colors to choose from!
Faux Wood Colors
Wood Blinds Colors
Operating Options
Sunburst's blinds are available with varying operating features to make sure they work their best for you. Pick from traditional cord tilt, effortless wand tilt, corded lift, or child and pet safe cordless lift systems. Then think about getting hold-down brackets to ensure your blinds don't sway and let unwanted light in at the sides.
Wood Blind Louver Width

Available in 2 inch and 2-½ inch louvers. Some options only available in specific sizes.

Faux Wood - 5 white & near-white tones, 5 wood-colored stains available.

Wood - 24 exclusive designer finishes

*Color coordination available for wands/cords and tassels.

Operating Options

Cord tilt packaged standard. Wand tilt options are available.

Routeless blinds are also available.

Valances

3 ¼ inch Royal Crown valances are offered.




Cut-outs

Notch or Edge cut-outs are available.

Warranties


Faux Wood & Wood Blinds are backed by a limited warranty that covers any manufacturing defects (i.e. a flaw in the product design, materials or workmanship that causes the product to no longer function) for 3 years for the original owner.


All wood blinds are 100% American-built and assembled.
Style Considerations
In addition to colors, you have extra options for customizing the feel of your window blinds. Our slats can be found in 2-inch and 2 1/2-inch sizes, so you have the chance to select between a traditional look or a wider, more modern style. You also have the ability to incorporate rounded corners that provide your blinds a more refined look. Then choose between conventional ladders or twill tapes. In the end, you might include a distinctive valance to complete the look.
Ready To Learn More About Blinds For Your Denver Residence? Talk To The Window Treatment Experts At Sunburst.
You can't find such amazing window blinds somewhere else in Denver, so begin your hunt for the perfect blinds with Sunburst Shutters Denver. Contact us at 720-538-0182 or submit the form below to request a no-cost in-home consultation and find out more about our popular window blinds and other options.