What Window Treatments To Choose For Your Denver Custom-built Home
If you have decided to build a custom home in Denver, you seek the best finishes possible, down to the window treatments. There are many reasons why plantation shutters top the list of window treatments for custom homes in Denver. Their unique design and appeal blend in with any interior and allow you total authority over natural light. With these qualities you are able to quickly fashion a pleasant space and accentuate your new home's best features.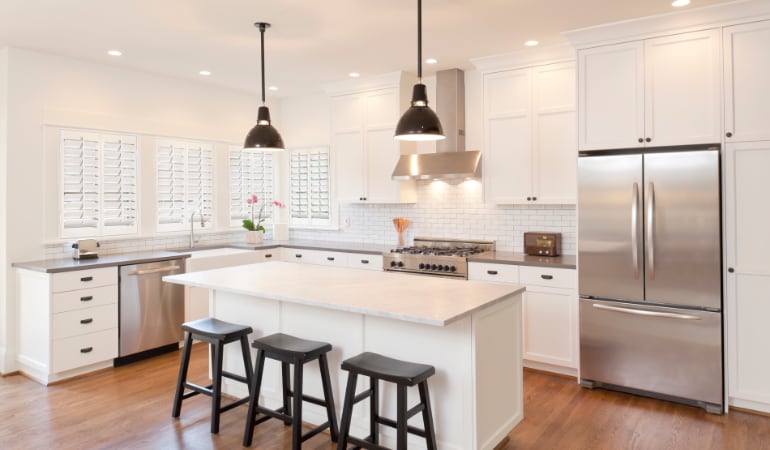 How Do Plantation Shutters Elevate a Custom Home?
If you are looking to to show off your custom home, think about window treatments that people in Denver use to add to their home's style. Plantation shutters synchronize seamlessly with all home designs. They are a point of emphasis and garner attention from onlookers who are more accustomed to outdated drapes and metal blinds. Their simple but elegant construction is all that is needed to provide a dazzling dynamic and ensure a positive influence on visitors.
Plantation shutters make the perfect finishing touch for a custom home. Their distinct construction and classic colors incorporate easily with any style of home, so you can confidently ask your builder to put them in each window and not have to worry how they will look in your furnished home.
Fully customizable, this window treatment works for regular windows and uniquely sized ones, so you are able to install them in any location and save yourself the hassle of picking different window treatments for each room. You will appreciate having a job removed from your list as you figure out your remaining home finishes!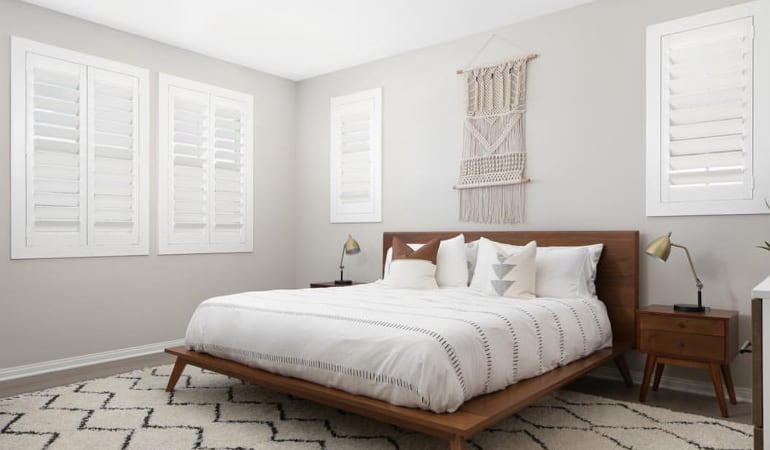 How Do Plantation Shutters Make It Easy To Direct Sunlight?
Your visitors will appreciate the feel of a sun-splashed home. Although you are likely to select beautiful electric lights to illuminate your custom home, sunlight has distinctive properties that give an area a larger appearance or alter its mood.
However, sunlight is constantly changing. As the sun moves throughout the day, the level of sunshine coming through your windows changes, and you must change the positioning of your window treatments to filter the light accordingly. When trying to find window treatments for custom homes in Denver, residents often choose composite Polywood® and solid wood plantation shutters that let them control the levels of sunlight a room receives.
Gently move the tilt rod to change the angle of the shutter louvers in the daytime when the sun is in full force to allow an area to have a more comfortable feel and open them again to enhance the brightness when the sun has shifted to a new location. You can even swing the panels open from the hinges for complete sunshine to generate a bright, airy look and close them again for a more intimate feel.
Altering the slat angles also allows you to shift the sun's rays. By tilting the louvers in either direction, you can lighten even the darkest corners to make your home feel larger. You can also filter excessive glare away from your visitors' view and surfaces where reflection occurs without shutting the slats and eliminating the light altogether. With a single touch, you can direct the location and the amount of sunlight that radiates in any room to ensure the comfort of your guests.
Select The Right Window Treatments For Your Denver Custom Home
Present your custom home in its full glory with the alluring design of plantation shutters by Sunburst Shutters. We install made-to-order window treatments that Denver homeowners want for their custom-built homes. Reach out to 720-538-0182 or complete our simple form to request a no cost in-home consultation.