What Are The Best Window Treatments For Over The Kitchen Sink In Denver?
If the time has come to purchase window treatments, be sure to consider your kitchen -- starting with the one over the sink. If you're worried about water or food splatters damaging a window treatment over the kitchen sink in your Denver home, use plantation shutters. These popular options bring style to all areas but stand up to the often wet and messy kitchen environment.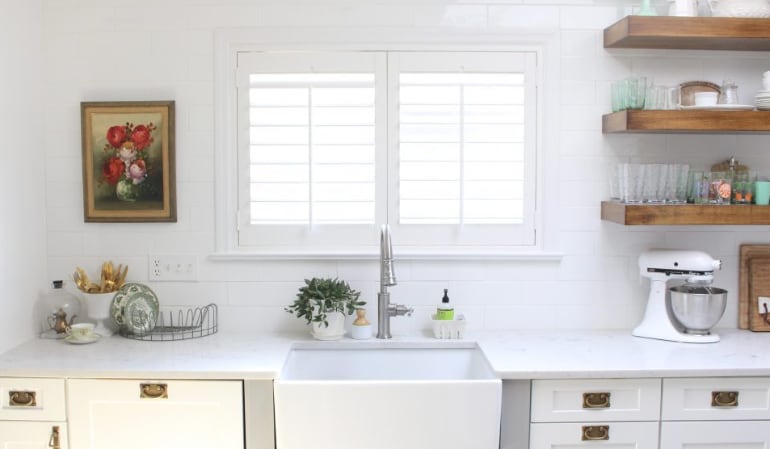 Dazzling Faux-Wood Shutters Elevate All Denver Kitchens
Window treatments over your kitchen sink in Denver should be simple and durable. With that being said, your kitchen window coverings will look as nice as your family room window treatments when you install trendy faux wood Polywood plantation shutters.
This timeless option mixes easily with all types of kitchens. They can be found in different hues of white that coordinate with kitchen appliances and finishes, and their strong panels of functional louvers create texture that contrasts beautifully with the flatter, more uniform aspects of your kitchen. Polywood materials convey a unique sense of style to both extravagant and simplistic kitchens and every one between.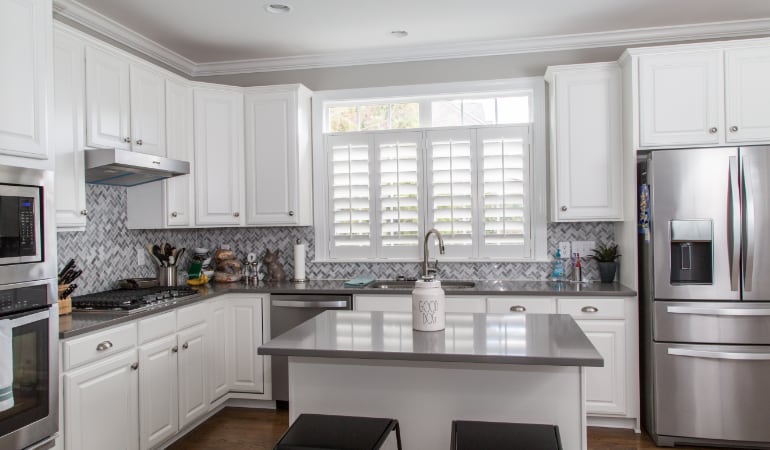 Faux-Wood Shutters Stand Up To Harsh Conditions
How often do you see moisture along the window glass when doing dishes or heating water to a boil? That same condensation attaches to window treatments over your Denver kitchen sink, where it will deteriorate standard fabric products after a period of time.
Instead, you should look at interior shutters. The patented construction of Polywood and tough outer coat resist damage from a moist and steamy environment. In fact, these products are totally watertight. They will never warp, chip, or split due to the levels of moisture in your kitchen.
Natural sunlight and outdoor conditions also won't impact your Polywood shutters. On the window over your sink, these plantation shutters are faced with chilly drafts and intense UV rays. These long-lasting shutters will not deteriorate from excessive interior heat or frigid outdoor temps, nor will they suffer from fading due to high levels of sunshine.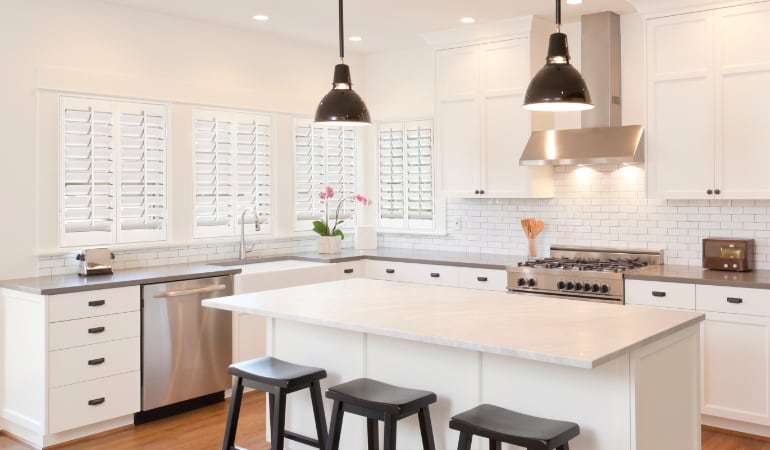 Interior Shutters Give You More Light For Kitchen Work
Getting enough light is critical in your Denver kitchen. You don't want to harm yourself because the lighting is too dim! Polywood shutters provide the amount of light you want and are easy to operate. Open the panels or move the louvers with the easy-to-use tilt rod. You don't have to worry about cords that always get tangled or pull bars that are not easily accessible when you want to change the lighting.
For the brightest light, open the shutter panels completely. If you have too much sun, move the panels back in place and tilt open the louvers to your desired light settings. Or use the louvers to reduce glare off counters and flat surfaces within your space. If you don't like strangers peering into your house, close everything tightly for total privacy.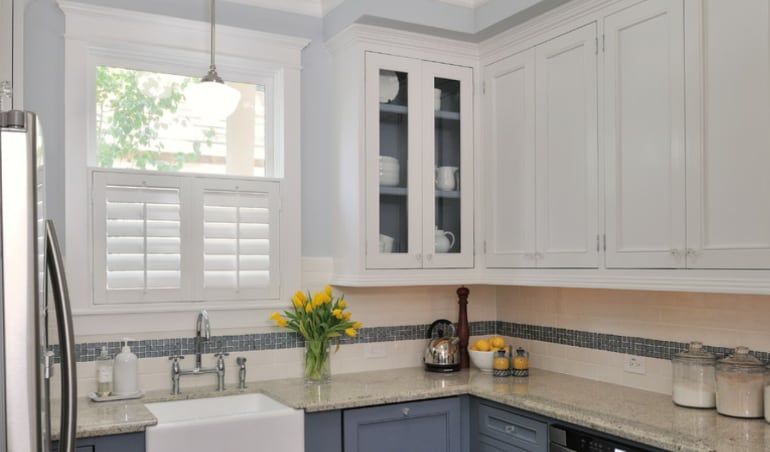 Polywood Faux Wood Shutters Make Cleaning Easy
It's common for kitchen surfaces to become covered in sauce splatters, grease, and dirt. Any window treatment over your Denver kitchen sink must be easy to clean. When taking this into consideration Polywood shutters are excellent options for kitchens. The sturdy, smooth construction doesn't stain or hold odors like fabric options. You just need to quickly wipe them with a soft, dampened cloth, and they'll look new again.
There's no need to waste time carefully poking your cleaning wipe around the openings as you would with inferior blinds. Plantation shutter slats are durable, and you can choose from different sizes, including wider ones that create large openings for you to reach through with your cloth.
Get The Perfect Window Treatments For Over Your Kitchen Sink In Denver At Sunburst Shutters Denver
Sunburst Shutters Denver provides the perfect solution for every window -- including the one over your kitchen sink. Talk to our consultants about what you have in mind, and we'll customize a plan for your home. Reach out to us at 720-538-0182 or fill out the form below to get started.