Tips For Combining Window Treatments in Denver Homes
For some Denver homeowners, one window treatment on certain windows may not satisfy. Whether you're trying to achieve a particular aesthetic, double down on blocking light and heat, or any of a variety of other reasons, using multiple window treatments has become fairly common.
So what are the window treatment combos that give your home the most stunning looks and top-notch window coverage? Let's focus on some of the most popular combinations for Denver homes.
Combining Plantation Shutters with Draperies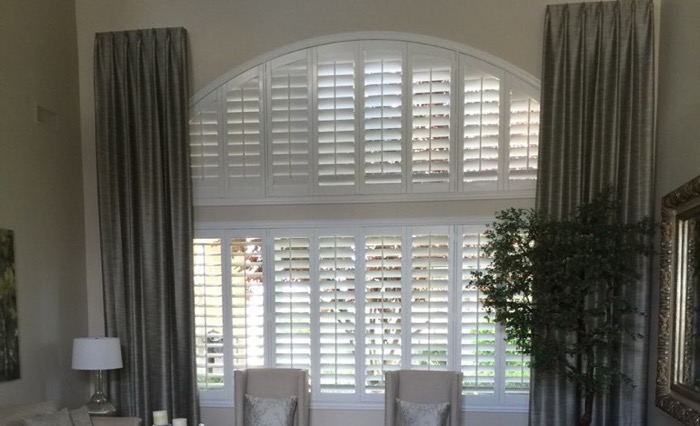 Plantation shutters
and drapes are among the most stylish and popular window treatment pairings we regularly see in Denver homes. The reason they're so complementary is simple: they give homeowners the most "wiggle room" concerning looks, light control, and privacy. Plantation shutters are great for large windows, since they can keep your privacy while still allowing a good amount of light into your home. Occasionally, though, you may want to drop in a splash of color or add a tad more warmth to the room–that's where a set of drapes can come in. An added set of drapes can imbue the room with color, give your home a cozier look, and provide a tasteful framing to your shutters.
The drapes you pair with shutters don't have to be heavy, highly functional window coverings when paired with shutters, either. Even accent drapes on the sides of your window can fulfill the same purpose, as the plantation shutters give your windows more than enough coverage.
Pairing Shades with Draperies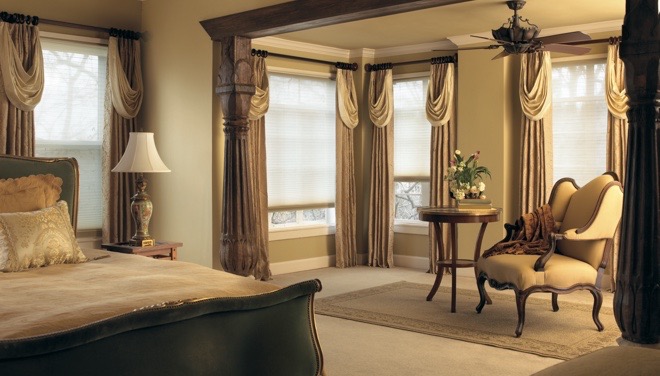 A combination of shades and draperies can give a room an elegant look, great for bedrooms and living rooms. The unique appeal of this combination is based in the differing textures that are achievable, specifically with roman or cellular shades. When you can complement colors but have different textures, you can make that space feel simultaneously comfortable and classy.
Using Valances and Cornices with Other Window Treatments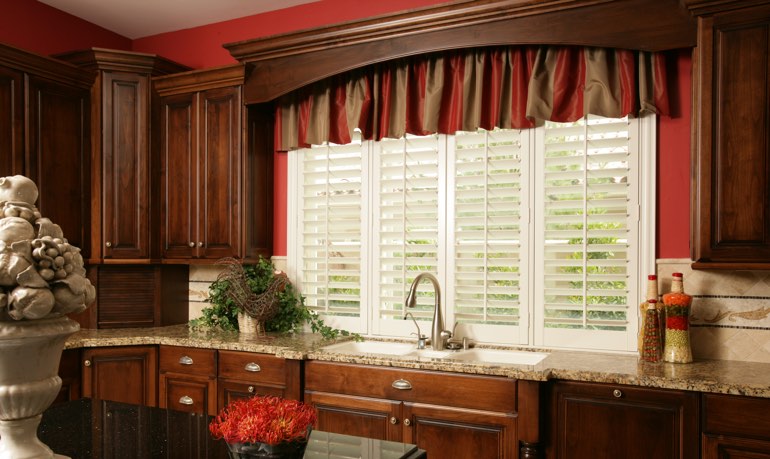 Though not as common as they once were, valances and cornices do still pop up in certain houses, and can fill a great role when paired with the right partner. Like drapes do when paired with shutters, a valance or cornice will typically be your accent piece. We suggest utilizing an interesting hue up top with a more neutral window treatment, like Polywood® plantation shutters or faux-wood blinds. This type of pairing works very well in specialty rooms like the kitchen, where you probably want a waterproof window treatment such as Polywood.
Window Film Pairs with Anything
Back when it was first introduced, window film was just used to blacken windows, which had a drawback as it could make a space feel somewhat lifeless and prevent you from enjoying a clear view outside. The window film available today lacks these issues, as it blocks up to 80% of energy from the sun without impairing your view with a layer of tint.
That makes window film a great partner to other window treatments, since it can seamlessly adhere to your window glass and drastically improve your window's r-value. Window film does all this while giving you complete freedom in how you want to dress your window, whether it's honeycomb shades, plantation shutters, or any other window treatment.
Could your house benefit from a new window treatment combination like one of these we've looked at? Call Sunburst Shutters Denver at
720-538-0182
today to set up a free in-home window design consult to begin giving your windows the treatment they deserve.