The Most Popular Basement Window Treatments In Denver
We run into many homeowners that delay or even forget to put window treatments on their basement windows. It's difficult to find a window treatment in Denver that brings in the sunlight your lower level desperately needs, while providing you privacy. And if you have small windows, covering them and incorporating them into your space becomes even more difficult. Also, basements are more humid that other parts of your home, which greatly can affect the kind of window treatment you purchase.
The simplest way to decide on which kind of window treatment is best for your basement in Denver is to start with your type of basement.
Window Treatments For Walk-Out Basements In Denver
If you have a walk-out basement in Denver, you don't have to worry as much about dampness and mold when choosing window treatments. Instead, you want a window treatment for your windows that gives you control over light and gives you more privacy, especially if you watch a lot of TV in your basement.
Draperies offer privacy. If you use sturdier material and blackout layers, they can keep almost all of the light from shining through. But draperies cover the unique architecture of your basement windows behind their folds. They also can get dirty easily and stay dirty until their annual cleaning. You have less light control with draperies since your only option is to scoot the panels to one side or the other. Light can still come in through the sides of the window treatment.
Control your basement windows with plantation shutters. The frame of the shutters encase the shutter panels to block light from coming through the sides. This means utmost privacy. No one can see inside when you have the shutters closed.
Adjust the shutter louvers to let in more light. Add a divider rail and adjust the top and bottom shutters separately from each other. And premium plantation shutters have weatherstripping that offers the temperature control larger windows need.
Plantation shutters are custom-made to cover the the window's shape. In that way, shutters show off the distinct curves and angles of your circular and arched windows.
Sliding barn doors are another choice for walk-out basements. Take advantage of the outside view by pushing the panels to the edges of the window. Your barn doors turn into a work of art when they're shut, adding to the room's décor.
Sometimes there's a gap on the sides, and light can shine through. That's because of how the barn door is installed.
For the walk-out basement door, look for a sturdy window treatment that can endure all the times the door is open and shut. Shades and blinds can rattle as they hit the glass. And when you tie them to the frame, they don't look finished. Plantation shutters are permanently installed to the door. When you swing the door open, they won't move. Plus, you can adjust their louvers to control the light.
Shutters are also perfect for walk-up basement doors in Denver.
Window Treatments For Look-Out Basements In Denver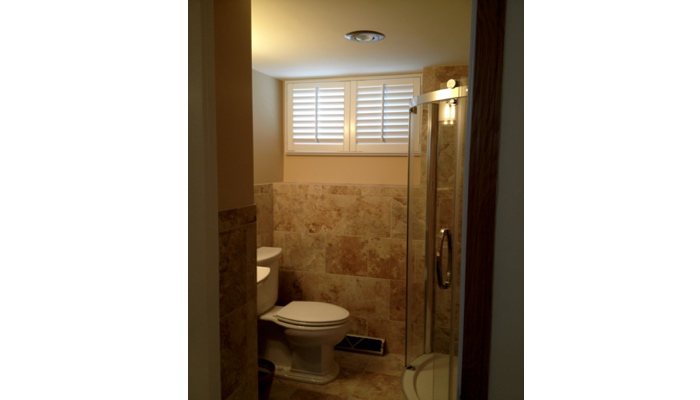 For look-out basements in Denver, the possibility of mold growth and dampness is something to keep in mind when searching for a window treatment. You'll need one that's stunning and can handle humid conditions.
Premium wood and synthetic wood shutters are moisture resistant. Some plantation shutters won't warp. That's why they work so well for look-out basements.
You can bring the warm look of wood to this colder part of your house with the custom look of plantation shutters. These energy efficient window treatments lower your utility bills year round and make entertaining in this room a pleasant experience.
Increase your window's energy efficiency even more by combining plantation shutters with window film. Now, you can open the shutter panels during the day while saving energy with window film.
Most people will want to close the shutters at night. Otherwise, neighbors and passersby can peer into your basement.
For small basement windows, you can create the illusion of a bigger window by using shutters that are taller than the window is. And you still have all the benefits of light control and privacy.
What's The Simplest Way To Buy Window Treatments For My Basement In Denver?
Start by calling us at

720-538-0182

.
We'll take you through the process of purchasing basement window treatments
as well as any other window treatments you need for other rooms in your home. You can schedule a free in-home consultation so you can see our product samples and get a quote. When you've chosen the window treatment that you want, we order and install it. It doesn't get easier than this...unless you would like to fill out the form below instead of calling

720-538-0182

.