Kitchen Shutters and Other Kitchen Window Treatments for Denver
Picking kitchen window treatments in Denver isn't always straightforward. You have to find something that suits your style and manages sunlight. But, you also have to consider the heat and humidity from cooking. Install the incorrect window covering, and you get warping, yellowing, and stains from steam and food splatters.
Polywood plantation shutters are usually considered the best kitchen window treatments in Denver. They are beautiful, durable, and excellent at dispersing sunlight. Some homeowners will also suggest a lovely roller shade for minimalist designs, as they are easy to use when you need to open a window in the kitchen.
For Entertainers And Cooks, Faux Wood Kitchen Shutters In Denver Are The Best Option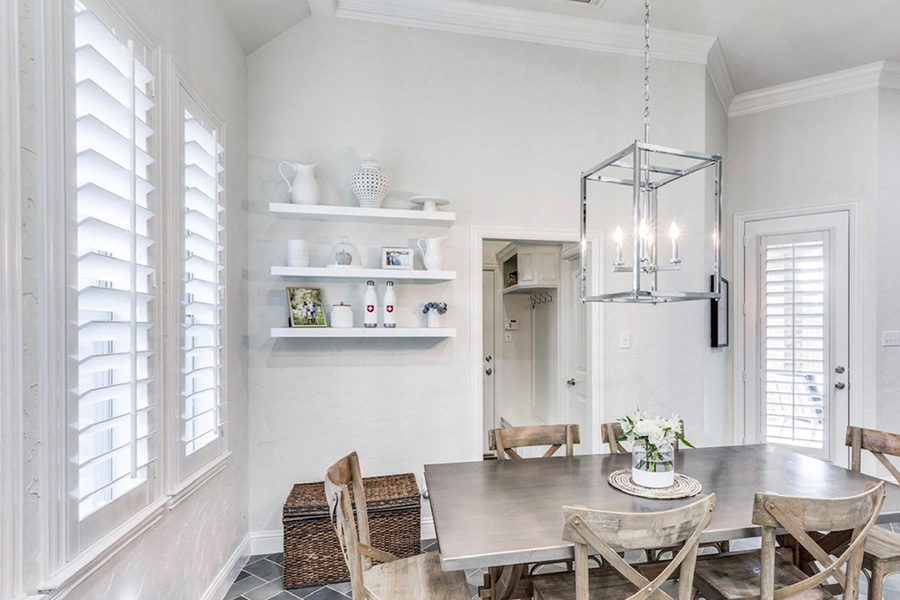 Polywood® shutters give you almost everything you would desire from a kitchen window treatment in Denver. These kitchen shutters work perfectly for cooks and those who entertain because:
They are moisture-proof. Kitchens are humid places. Running dishwashers, boiling pots, and simmering skillets make steam that can lead to disaster for many window treatments in the kitchen. Polywood shutters are totally moisture-proof and can avoid the yellowing and warping that comes from contact with hot water.
They're simple to clean. Let's face it – every kitchen gets dirty. Food splatters and greasy fingerprints are a cinch to remove from Polywood shutters. Simply rub with a moist cloth to get them spick and span and ready for guests.
They look wonderful with all decor. It's said that all parties end in the kitchen. Fortunately, Polywood's sleek style allows these kitchen shutters to match all kitchen styles. So whether you have a butcher block, Silestone, or marble countertop or black, white, natural wood cabinets, your window covering will blend in perfectly.
They can control light perfectly. In a kitchen, sunlight can be both a blessing and a curse. For example, you want some sunlight to perk you up each morning, but there's some glare from the rising sun. With an interior shutter, you are able to arrange the louvers and angle the sunlight, so it streams in and doesn't blind you.
Roller Shades Bring Simplicity To YourDenver Kitchen Window Treatments
While interior shutters are the most preferred pick for your Denver kitchen window treatment, they aren't the only treatment that does the job. Some Denver residents prefer a simpler roller shade to enhance their interior design.
Roller shades can provide some perks that other kitchen window treatments don't. For instance, they hang close to the window and are easy to operate. Simply give them a tug, and they'll rise and lower effortlessly. You can adjust them to any level to stop glare but also keep some natural light. And you can buy a cordless style, so don't be concerned about anything falling down over the sink while you're rinsing dishes.
But mostly, people get roller shades due to the myriad of colors and patterns available. If you have a generally monochromatic kitchen filled with whites and greys, you can opt for a vivid red or rich green - maybe a color to match your kitchen linens. If you own black or dark cabinets, you can use a lighter hue or even a sheer material that lets in subdued sunlight when closed.
The Kitchen Of Your Dreams Isn't Complete If You're Missing The Perfect Window Treatments
Rely on roller shades and Polywood shutters when you want unrivaled Denver kitchen window treatments. Sunburst Shutters Denver can assist you in selecting the perfect window treatment and then custom-fit them to your windows exactly. Contact us at 720-538-0182 or fill out the form below to request your in-home consultation.