How To Use Window Treatments For Palladian Windows In Denver
Elegant Palladian windows offer a point of emphasis to any Denver residence. These impressive windows with a large, arched middle window flanked by two rectangular windows of a reduced size offer lots of sunshine and a spectacular view. However, you might be wondering how do you shield these unique windows for darkness and privacy without concealing their design?
Plantation shutters are the top window treatments for Palladian windows in Denver. The simple reasoning is because shutters are custom-made to match the specific dimensions of your project. They maintain the shape, give you superior light and privacy control, and match the incredible appeal of your Palladian windows.
Louvered Shutters Match The Unique Shape Of Your Palladian Window
When you have such a distinctive element as a Palladian window, you don't wish to cover its design. Although standard coverings like drapes offer a bit of light and privacy control, these rectangular installations will either conceal your taller, arched window or leave the the rounded top uncovered and allow light to enter.
Customized louvered shutters give you the best of both worlds. Both natural wood and synthetic shutters are designed to accommodate your window's specific size and shape. A frame is fabricated around the opening, and louver-filled panels are made to fit in the frame. On a window with an arch like a Palladian window, you may decide to have the two panels reach the highest part of your arch and feature the same curved edge as the frame, or you might have the arch handled on its own and use a a smaller, rounded shutter. Either way, the slats remain adjustable so you maintain total command over light and privacy.
Louvered Shutters Let You Manage Natural Light And Privacy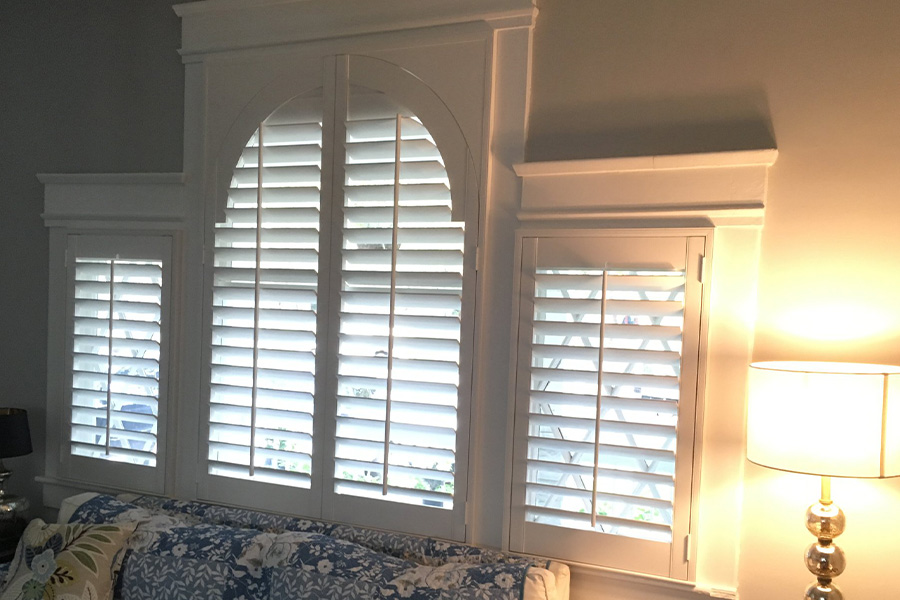 By providing such an exact fit, plantation shutters allow you to enjoy the ultimate control over the amount of sunshine and privacy you get through your Palladium windows. Expertly positioned interior shutters will avoid openings between your specialty window and shutter frame, and when you close the louvers, you eliminate sun glare with the added bonus of privacy. This attention to detail means that your shutters are a highly efficient option.
Composite shutters,
in particular, provide another layer of protection with their innovative insulation system.
Needless to say, there will be occasions when you wish to enjoy the outdoor scenery through your Palladian window and flood the room with sunshine. If you want to brighten the mood, turn the louvers until you have the view or levels of light you require. You are able to move the louvers to redirect sun glare off of any reflective objects or out of your eyes too.
Interior Shutters Highlight The Allure Of Your Palladian Window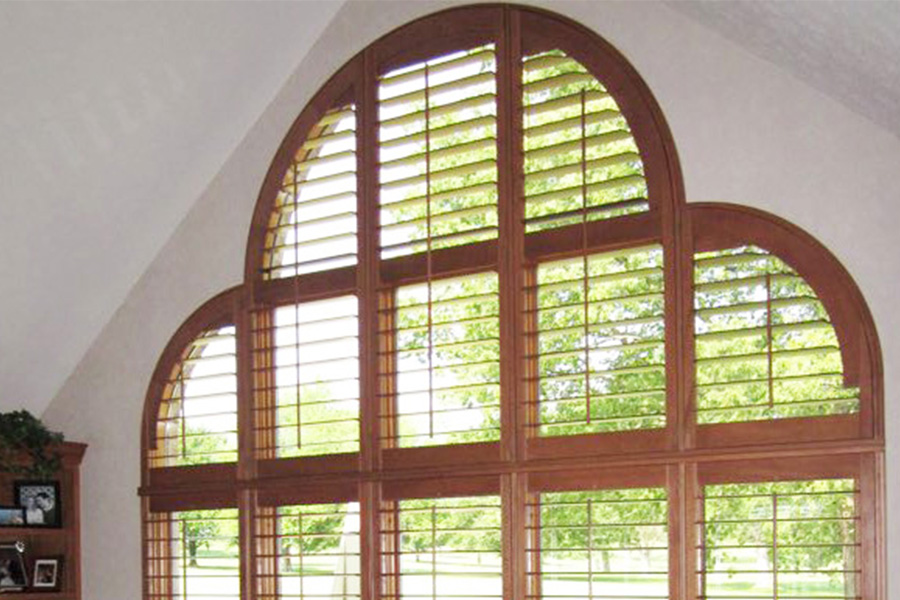 A beautiful window should have equally enticing window treatments. Interior shutters are a preferred choice as window treatments on Palladian windows in Denver. They bring breathtaking design elements and appeal to any area and are a definite upgrade over ordinary curtains or other alternatives. You also have the opportunity to produce the exact appearance you need with custom options like material, color, and frame style. Go trendy and minimalist with white composite shutters and a thin frame or classic with
hardwood Ovation shutters
with a rich wood stain and ornate frame. With so many possibilities, it's easy to find plantation shutters that match your existing interior.
Speak With The Specialists At Sunburst About Window Treatments For Palladian Windows In Denver
Sunburst Shutters Denver goes beyond expectations to help you find the ideal window treatment for each window in your house. We will walk you through our vast collection of superior window fashions and expertly install your products so they function perfectly and look great. Get started with a complimentary on-site appointment by calling 720-538-0182 or by submitting the form on this page.