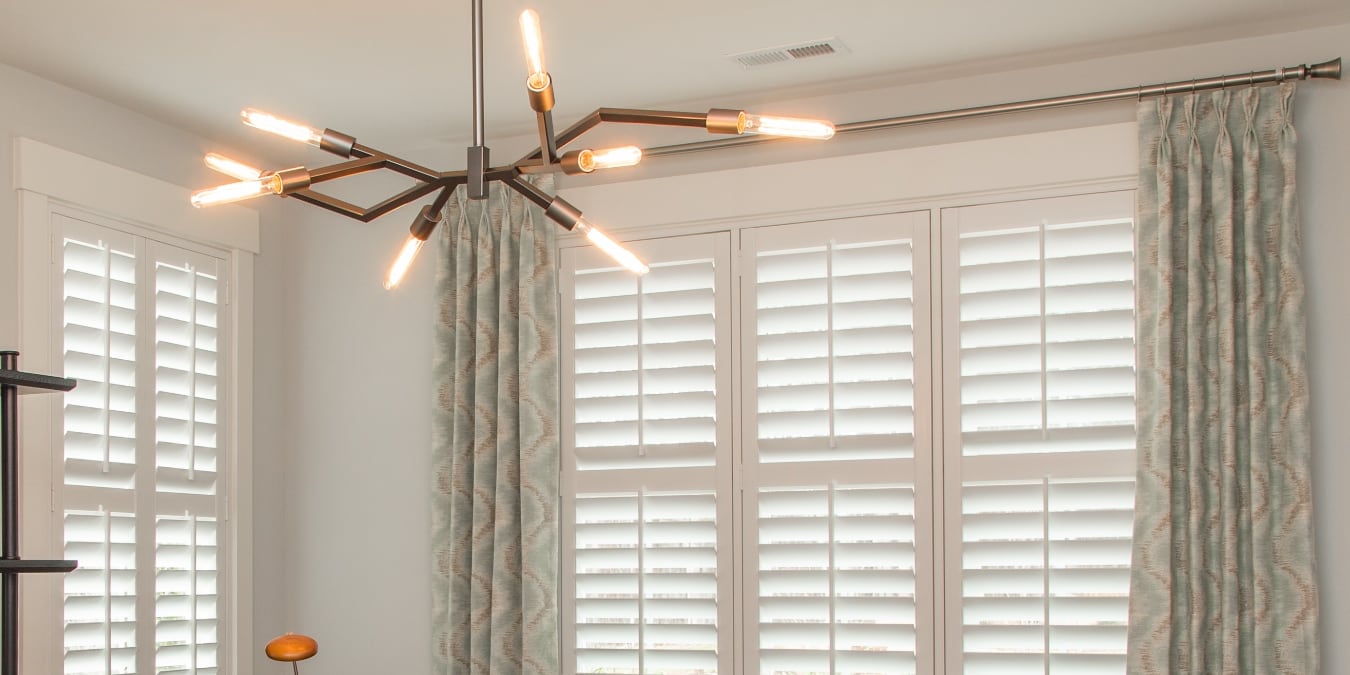 Home Office Window Treatments In Denver That Work For You
If remote work is your new way of life these days, you probably need assistance in upgrading your Denver home office. Start with your window treatments. Need to see a short comparison of the various home office window treatments?
Here is a link to our window treatments chart, for window treatments perfect for your home office.
Options like plantation shutters and motorized window shades are sensible home office window treatments for Denver workers who wish to keep comfortable and focused while working without sacrificing style. These alternatives can even help you look more professional during online conferencing! Explore the ways you can use these window treatments to your benefit.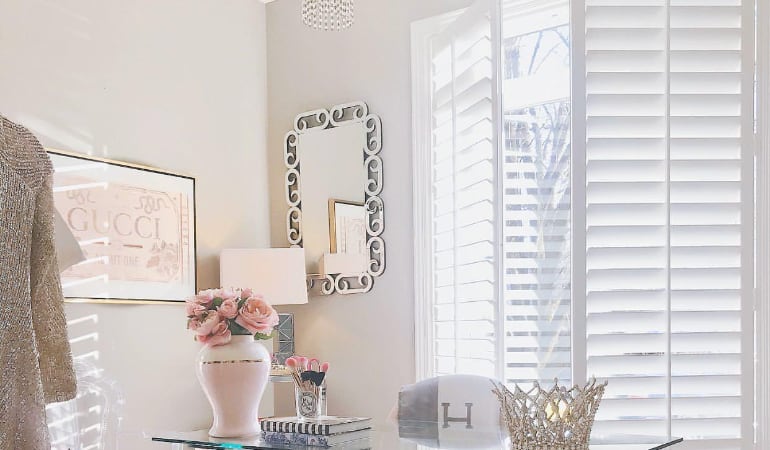 Plantation Shutters: A Top Choice In Home Office Window Treatments In Denver
Working remotely is often a challenge, so pick home office window treatments in Denver that will make the workday more pleasant. The time-tested craftsmanship of plantation shutters makes them a preferred choice when you want to adjust your workspace's lighting and comfort levels.
An advantage of working from home is that you are in charge of the comfort levels. But keep in mind, you don't want to bump up your energy costs by relying on your HVAC system every hour of the day. Faux-wood shutters with insulating capabilities are a smart alternative. When it's hot and sunny, close your Polywood shutters to cool your home office and eliminate the glare on your computer screen. In the winter, that same insulation fights off those cool drafts.
Ready to lower your electric costs or fed up with poor lighting? Shift the tilt rod on your Polywood shutters for natural light that you can move away from your screen and into other areas that need it. Close the slats back up to limit distractions like passing traffic and dog walkers. Keep them shut to maintain privacy after dark if you need to work late.
If you'd like some flair in your home office, the clean lines of Polywood shutters create an elegant design component that gives a boost to even the plainest office window. They can be found in a multitude of adaptable colors, too. Whether you choose classic white plantation shutters or a warm-toned hardwood shutter, your new home office window treatments will make you thrilled to be working from home!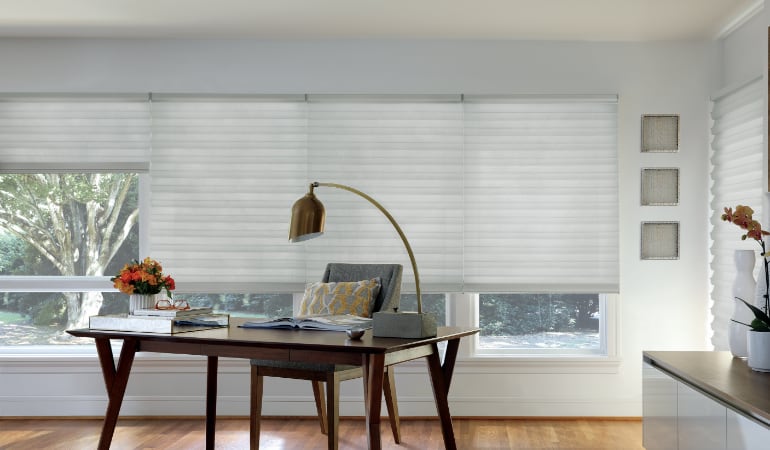 Motorized Window Shades Are A Smart Choice for Denver Workers
Similar to Polywood shutters, various types of shades deliver sunlight control and insulating capabilities for your home office windows. You can use blackout roller shades to block glare from the sun. Eco-friendly cellular shades fight off drafts and hold in warm air. Transitional shades let you choose between light through a gentle filter or no light at all.
Window shades also come in a multitude of colors and styles to fit your individual preferences and deliver the work atmosphere you'd like. You may enjoy something stylish like Roman shades that provide an elegant backdrop during video conferences or a practical product like roller shades to prevent disruptions.
If you've decided on the type of window shade you want, consider the motorized version to bring even more convenience to your work area. Motorized window shades function with a remote controller instead of manually. This provides an effortless method for controlling the lighting in your home office.
If the sun changes position and a glare disturbs your focus, you can close your shades in one simple touch without moving from your chair. If the sun is making you look washed out on a conference call, or you realize your office looks too dark on your monitor, you can let down or raise up your motorized shades without interrupting the meeting. Your co-workers and clients will be amazed by your professional workspace when you improve your home office window treatments in Denver.
Are You Still Wondering Which Window Treatments Is Right For Your Office? We've Put Together This Chart To Help Compare All Of Your Choices.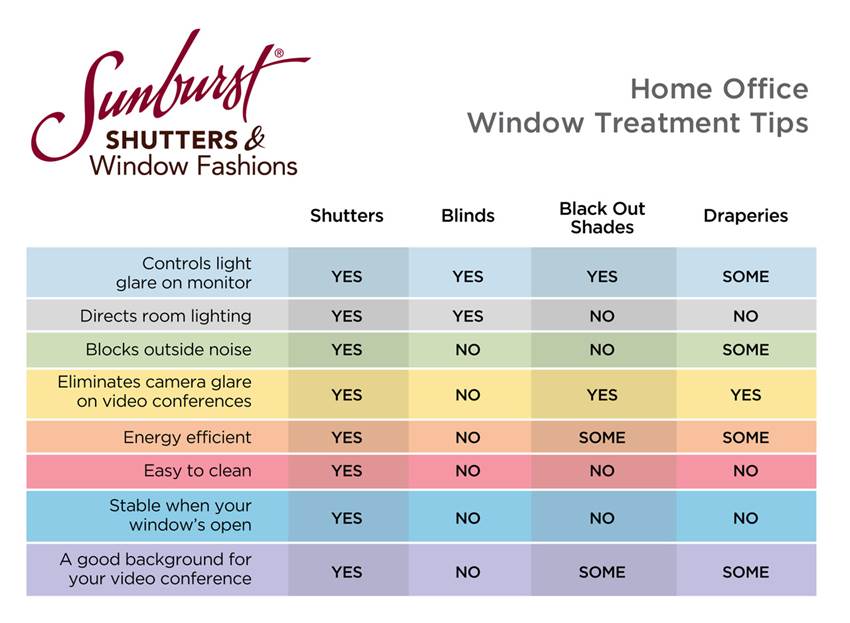 Elevate Your Denver Home Office with Window Treatments From Sunburst Shutters
You'll work better when your window treatments enhance your comfort and your privacy. Talk to the window treatment professionals at Sunburst to select the best options for your home office. To schedule a complimentary in-home consultation, call us at 720-538-0182 or submit our simple form.