Five Ways To Create The Perfect Media Room In Denver
The latest home theater technology makes it simple to enjoy TV, movies, and gaming while relaxing in your own home. This is the rationale behind why residents of Denver are inspired to create home media rooms. But what should you have to design an incredible home media room? From ideal window treatments to equipment, here are five suggestions for creating a media room in Denver that everyone will love.
#1 Manage Sunglare With Interior Shutters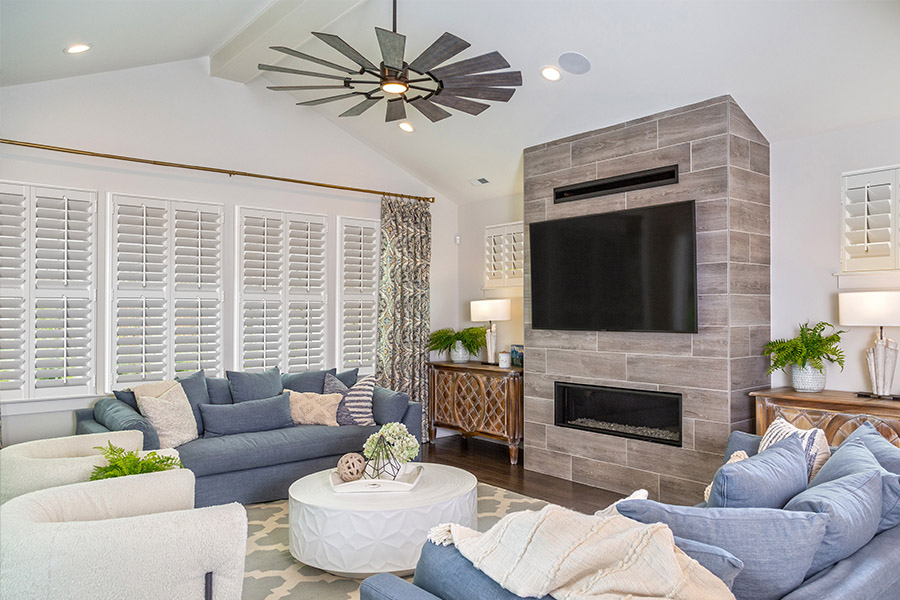 Few things can spoil your favorite show like glare on your television. Adjustable interior lights are beneficial, but what do you do for outside light? Choose
louvered shutters for window treatments
in your media room in Denver for superior light management. Interior shutters have a solid outer frame that encloses your window to inhibit light. These durable products also incorporate panels on hinges with adjustable slats that slide together closely to provide nearly complete darkness. You may also move the louvers to a different angle to shift exterior light away from televisions or your sightline without having your room appear to be an underground cavern.
In the event you select Polywood® shutters, you'll enjoy a higher degree of energy conservation too. These faux-wood shutters halt the sun's rays and airflow to keep your media room at a comfortable temperature level. They are capable of preventing up to 30 degrees of temperature transfer, saving you money on energy bills.
#2 Enhance Your Media Room's Sound Quality With A Couple Minor Projects
Once you conquer the illumination in your Denver media room, focus on the acoustic environment. Drywall works well for your media room's walls, but your basement's concrete ruins the quality of sound. The most straightforward method to minimize echoing in your basement media room is by installing acoustic panels. If you have to soundproof your media room, select easy-to-install sound dampening or deadening materials. You can combine those with window treatments, like shutters, to block out outside noise.
#3 Choose The Proper Devices
The proper electronics will deliver superb sound quality too. First, select a surround sound configuration. A great number of residents select Wi-Fi connected components because you don't have to trouble yourself with running wires.
You'll also want a high-def flat screen. LED and LCD screens offer excellent brightness, but 4k units typically have superior contrast ratios and extremely wide viewing angles. You could also go with a projector-style setup for a large media room. Whichever video option you choose, install it high on the wall for improved viewing angles.
#4 Choose Comfy Seating Options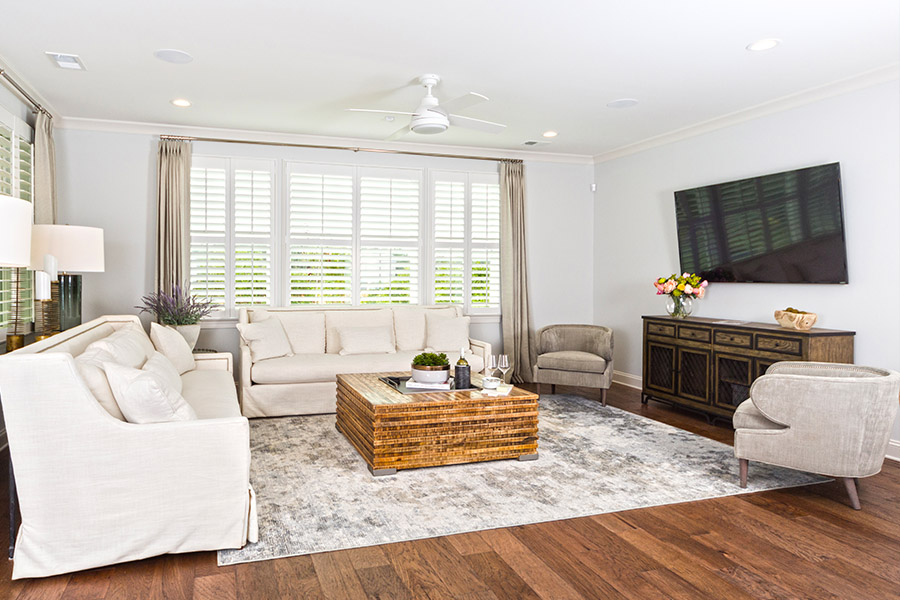 You won't be able to take pleasure in the big game without a cozy seat. If you're going for a theater-style experience, try to find the appropriate chairs with reclining functionality and built-in cup holders. For gamers, invest in a few gamer chairs. An oversized sectional works great as well. Also, be sure to remember some super-soft blankets and pillows for extra cozy binge watching nights.
#5 Redecorate With The Theme of Your Choice
Design in whatever fashion you would like when creating a media room in Denver. Do you associate with Old Hollywood? Would you like to give the impression that you're sitting in an actual theater? Replica movie posters, a vintage popcorn maker, and vibrant colors can reinforce the intent of your media room.
If you want a more subtle appearance, design around your preferred color palette. Warmer hues with wooden trim and coordinating Ovation® shutters will allow your media room to feel snug. You could also go light and airy with softer, neutral shades and Polywood shutters.
Speak With Sunburst About Window Treatments For Your Media Room In Denver
The professionals at Sunburst Shutters Denver are here to help you pick the perfect window treatments for your media room. At your no-cost on-location consultation, we're happy to present how different solutions look in your space before you make your decision. Schedule yours today by reaching out to 720-538-0182 or by completing the following form.