8 Ideas for Using Reclaimed Wood in Your Denver Home
Denver residents are wild about reclaimed wood and the natural, unpretentious beauty it brings to their homes. It's become a desirable way to repurpose weathered wood and, at the same time unleash your individual style. Reclaimed wood products stand out whether you've featured it on a wall, your cabinets, or – yes! – your windows. In need of some tips on how to make reclaimed wood work for you? We've got 8 top-notch ideas for you – all applied to wonderful effect in Denver homes.
1.Windows of Reclaimed Wood
It's about time: that window treatment of reclaimed wood you've had your eye on is now readily available to you. Sunburst Shutters now offers a plantation shutter created from reclaimed wood of the finest quality. In truth, Sunburst is the lone company providing reclaimed wood shutters in the Denver area. We took the reclaimed wood you want and used it to engineer a louvered shutter that's incredibly beautiful and remarkably functional at the same time.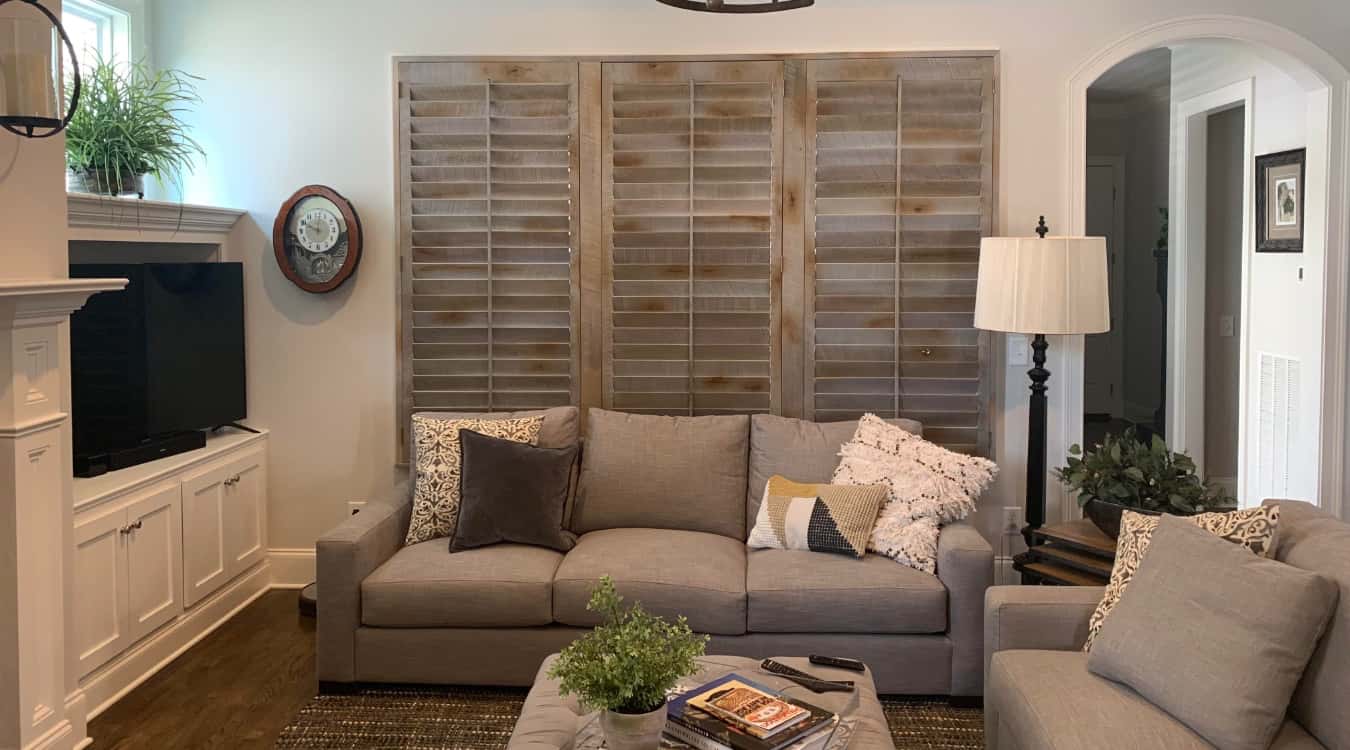 Reclaimed wood can be a window treatment like no other. It helps, of course, when your reclaimed wood shutters are viewed by many as valid artistic pieces in and of themselves. And Sunburst makes sure they are. You'll soon realize there's just as much to like about their operation as there is to like about the way they calm the mood of a room. Tilt the louvers open to admit more light. And tilt them closed to bring out the weathered look of reclaimed wood on your window. Don't rely only on our word for it, though. There's so much more to find out about reclaimed wood for windows in Denver. Explore!
2. Reclaimed Wood and Walls
Bring the outside in with a reclaimed wood wall. Reclaimed wood paneling makes your wall distinctive and lends a comforting feel to the room. Regardless of whether you have a artwork, TV, bookcase, or fireplace to complement, a reclaimed wood wall will look stunning behind it and give you precisely the effect you've sought.
3. Floors of Reclaimed Wood
Looking to redo a floor in your house? Wood flooring of any kind can add warmth and coziness to a room, but flooring of reclaimed wood has an unparalleled beauty perfected in the time – generally decades – the wood has been left outside to endure the effects of nature. Whether you love the outdoors or simply love the look and feel of weathered wood, you'll fall head over heels in love with what a reclaimed wood floor can do to upgrade your home.
4. Use Reclaimed Wood in Cabinets
This is the perfect time to give your kitchen cabinets a makeover with reclaimed wood. It's the natural way to dress up your entire kitchen. Every panel of reclaimed wood conveys a fascinating tale – of considerable time during which it languished in a forgotten building, for example, or as part of a fallen barn or fence. And a bit of that tale will survive in your reclaimed wood cabinets, coming to mind at such times when you reach into them.
5. Reclaimed Wood Makes a Great Table
A tabletop made or consisting of reclaimed wood can lend a modern, totally fresh ambiance to your dining room or home office. Unite the wood tones with your overall interior design to create a pleasing, well-orchestrated look that satisfies you – while it elicits praise from guests!
6. Using Reclaimed Wood for Bookcases
Regardless of the value we assign them otherwise, books make wonderful decorative pieces. Arrange a book or group of books on a coffee table or end table, on a bookshelf, or in a big bookcase, and they're certain to capture the attention of guests. Their delightful variety is both accentuated and complemented in bookcases of natural wood, too. And bookcases of reclaimed wood, due to their natural colors, knots, holes, scratches, and other telling features, create a singularly distinctive, one-of-a-kind furnishing.
7. Reclaimed Wood as a Frame
The simple, natural look of reclaimed wood is wonderfully apt for picture frames. Use it to showcase your favorite artwork and important photos in a decidedly splendid manner. Note also that frames of reclaimed wood can be assembled in a variety of styles, so they'll match nearly any interior design.
8. Use Reclaimed Wood for Your Headboard
There's little that can refresh the appearance of a bedroom like a skillfully designed and constructed headboard. There's no prescribed way, as you might expect, to attach a headboard. It can be – and often is – fastened in some way to the bed itself. But a lot of homeowners nowadays want it attached to the wall behind their bed. Either way, a headboard made of reclaimed wood planking can be especially stunning. It's natural tones and imperfections are easily adapted to a multiplicity of styles, from antique to modern. With reclaimed wood, your artistic talent can truly take off, letting you achieve the headboard of your dreams!
Get Reclaimed Wood Inspiration
We hope we've inspired you with these 8 ideas for using reclaimed wood. But we have plenty of other ideas kicking around – ideas that blend well with the reclaimed wood shutters we alone provide in Denver. Our people would be delighted to show you samples of our shutters, answer your questions, and provide you with a range of other superb design ideas. Give us a call at 720-538-0182 to arrange your free in-home design consultation at your first opportunity!