2 Styles Of Patio Door Shutters For Your Denver Home
A glass patio door can be an extremely interesting part of your home, if you take care of it. A large part of that is choosing how to cover the patio door to keep your privacy and adjust the lighting in your home.
By far the most fashionable and functional patio door window treatments are plantation shutters. And whether your patio door is a sliding door or french door, we can help you find a style of plantation shutter to match your patio door.
Shutters for Patio French Doors
Plantation shutters are superb for french doors that open up to your patio because they're so adaptable. For any kind of patio french door you might have, our team can build a set of plantation shutters to fit them.
Does just one door open, or both french doors? Are the door handles located near the inside or the outside of the frame? Is it important to have a buffer so the doors don't swing all the way open and hit the wall? Interior shutters are perfect for any situation.
Not to mention their other notable benefits. Plantation shutters offer unparalleled lighting control in your home, unlike curtains or blinds where you only have two choices: open or shut. Shutters also outlast every other window treatment, and can last just as long as your patio doors do. Shutters are also permanently attached to your french doors, so they won't swing wildly when you open or close the door. And with Sunburst's premier faux wood Polywood® plantation shutters, you can get unrivaled energy efficiency, and that's especially important given how much heat can come and go through the big glass panes.
Shutters for Sliding Patio Doors
Just like Denver french doors, sliding patio doors come in different styles, and it could get super difficult to find a window treatment that matches your door exactly. Fortunately, shutters are custom-built to fit your sliding patio doors no matter how they open. Sliding door shutters will fall under one of two types: bypass or bifold.
Bypass Sliding Patio Door Shutters
With bypass patio door shutters, one panel slides on a track to give you access to the door.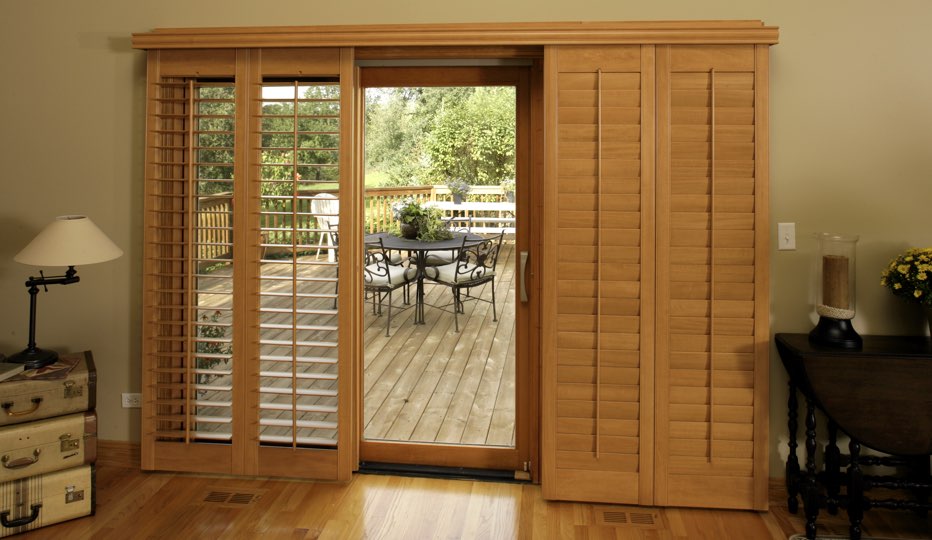 One of the biggest benefits of bypass patio shutters is that it doesn't sacrifice control over your lighting when you want privacy like you might with other window coverings. You can adjust the shutter louvers to any angle, letting light in without opening up your home interior to anyone who passes by.
Bypass shutters typically are built with fewer shutter panels than bifold shutters, giving you a more modern and sleek look to your patio door.
Bifold Sliding Patio Door Shutters
Like their name implies, bifold sliding door shutters fold in on themselves and fold away from your patio door. While a little more uncommon compared to bypass shutters, bifold shutters usually have more shutter panels, giving you more control over light since you have access to more individual louvers to adjust.
Frequently Asked Questions about Patio Door Shutters
How do I know if I should get bypass or bifold shutters for my patio door?
It mainly depends on the shape, size, and location of your sliding door. Your shutter installer can help you find what will work best for your home.
Do I have enough room on my sliding door to install shutters?
In almost every single case, yes, you'll have enough room. The reason why is that we can build a vast range of frame and mount builds that can fit various styles of sliding patio doors.
My french doors open in different directions – will that work with shutters?
As with sliding door shutters, french door shutters are built to your door's exact needs. Sunburst Shutters Denver can help build you a mount and frame that won't interfere with how your patio doors operate.
Can shutters move away from my glass patio door to give me a full view outside?
They certainly can!
Will my door handle be in the way of shutters?
No, the Sunburst team can build shutters with custom made cut-outs that give you access to your door handle.
If I get shutters on my patio door, do I also need to cover my transom window?
Only if you want to cover the transom. The beauty of shutters is in how adaptable they are.
Are shutters durable enough to withstand pets scratching at the door?
There's no window treatment that can completely get rid of scratch marks. But for unrivaled strength and durability, we recommend our Polywood plantation shutters.
Do shutters on my patio door help protect my flooring and furniture from fading?
Absolutely! With the fantastic light control offered by shutters comes the ultimate in UV protection. Your furniture, carpet, art on the wall on the wall and everything else inside will be safeguarded from harsh light.
When putting in patio door shutters, is anything screwed into my floor?
No – all of our patio door shutters adhere to either the wall around the door or the door frame itself, depending on the style you get.
Will bypass shutters on my patio door sway in the breeze if my door is open?
Not a chance. Patio door shutters by Sunburst adhered to your door or frame solidly so that they won't ever sway in the breeze, even if the door is wide open.
Get Your Patio Doors Looking Beautiful
Are you ready to treat your patio doors like the fantastic home features they are? If so, Sunburst Shutters Denver wants to help. Get in touch with one of our window treatment pros by calling 720-538-0182 today or by filling out our online contact form below. We'll get in touch soon set up a in-home consultation.